Uncle Sam wants 10,000 new cybersecurity professionals
The United States needs tens of thousands of cybersecurity practitioners, researchers, and — more recently — warriors; U.S. Cyber Challenge launches a nation-wide talent search; this summer, cybersecurity camps will be conducted in three states — California, New York, and Delaware; the goal is thirty-five camps in thirty-two states for next year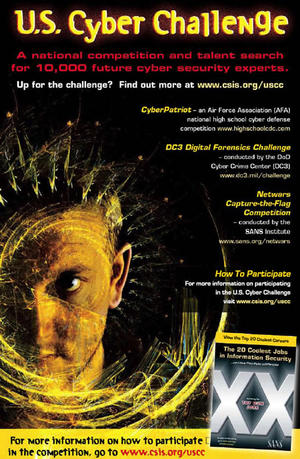 Poster for the U.S. Cyber Challenge // Source: technovelgy.com
The U.S. Cyber Challenge is looking for 10,000 young Americans with the skills to fill the ranks of cybersecurity practitioners, researchers, and warriors. "The U.S. Cyber Challenge is a nationwide talent search that aims at nurturing those individuals who are interested to make it through the abyss on the other side where there are scholarships, internships and jobs," says Karen Evans, the one-time de facto federal CIO. "This is a framework to develop their skills, give them access to advanced education and exercises, and enable them to be recognized by colleges and employers where their skills can be of the greatest value to the nation."
Govinfosecurity's Upasana Gupta quotes Evans to say that the mantra is to "grow the pool." Right now there are not nearly enough professionals with the qualifications to fill the required cybersecurity positions both within the public and private sectors.
Take for instance, DHS's effort to hire 1,000 new cybersecurity experts (see "DHS to hire 1,000 cyber experts," 2 October 2009 HSNW). DHS top cybersecurity leader Philip Reitinger says the demand outpaces the supply in this field. "My top goal (for 2010), and nothing else even comes close, is to continue to add to the great core of human capital I've already got," Reitinger told Gupta.
Recognizing the shortage of skilled professionals to perform security work nationwide, the Center for Strategic and International Studies (CSIS) invited Evans to head the U.S. Cyber Challenge with the main objective of creating a cybersecurity workforce for the future.
The U.S. Cyber Challenge recently conducted a series of online competitions developed by SANS, an organization that provides security training and certification, to identify participants in three states: California, New York, and Delaware. These individuals will be invited to attend a summer camp in their state, where they will receive a week of training by SANS and university faculty and students.
Three states are participating this year, and the goal is thirty-five camps in thirty-two states for next year, says Evans.
The California State Polytechnic University in Pomona will host its week-long training camp from 19 to 23 July. The other campuses that will host camps are the Polytechnic Institute of New York University (26 to 30 July), and Wilmington University in Dover, Delaware (9-13 August). All expenses including travel, housing, and meals will be paid for the selected participants. Each camp will have around 15-25 participants. "These competitions are meant for anyone to participate who is looking to develop new skills, transition into the security field or start a career," says Evans.
Attendees will get hands-on training in intrusion detection, penetration testing, forensics, secure computing, and other security-related topics. At the end of the week, the groups will be broken into small teams to play a capture-the-flag competition for prizes and recognition. Capture-the-flag will essentially require the participants to identify weaknesses in other teams' systems while defending their own.
The whole idea is to build a community in the long term, influencing high school and college students to stay involved, choose majors in cybersecurity and understand the different career opportunities that lie ahead. "This initiative is like the subset of a Facebook community that meets in the middle … where both sides (employers and job seekers) are comparing different things they want — type of jobs, etc. And at the end, if everything works out, it is like an eHarmony match-up," Evans says. "So, the U.S. Cyber Challenge is really a national framework that identifies people who have the skill set to move and embrace a career in cybersecurity."
Initial funding for the program is coming from CSIS and SANS. One of Evans' major goals is to seek active participation and sponsorship from the private and public sectors to create a resource pool in terms of a "talent bank" and make this program self-funding. "Everyone will benefit from this greater good — all of these organizations, both industry and government, will ultimately benefit at the end," says Evans. "I'd like to build the foundation of young Americans and help them get placed in cool positions within cybersecurity and seek integrated partnership to leverage this resource pool and get the big return on investment." For more information visit the U.S. Cyber Challenge Web site.