Energy futures

U.S. gives $2 billion to solar energy companies

The Obama administration awarded nearly $2 billion to two solar energy companies for three large solar energy projects — in Arizona, Indiana, and Colorado; the projects will create more than 3,000 jobs, power 70,000 homes, and produce millions of solar panels each year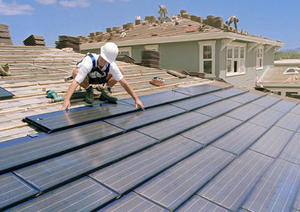 $2 billion grant will create 3,000 jobs // Source: mystikegg.com
>President Barack Obama announced on Saturday the awarding of nearly $2 billion to two solar energy companies that have agreed to build new power plants in the United States, creating thousands of new jobs.
"We're going to keep fighting to advance our recovery," Obama said in his weekly radio address. "And we're going to keep competing aggressively to make sure the jobs and industries of the future are taking root right here in America."
AFP reports that one of the companies, Madrid, Spain-based Abengoa Solar, has agreed to build one of the largest solar plants in the world in Arizona, which will create about 1,600 construction jobs. When completed, this plant will provide enough clean energy to power 70,000 homes.
The other company, Abound Solar Manufacturing, is building two new plants, one in Colorado and one in Indiana.
These projects will create more than 2,000 construction jobs, and over 1,500 permanent jobs as the plants produce millions of solar panels each year, according to White House officials.
"So that's some of what we're doing," Obama said. "But the truth is, steps like these won't replace all the jobs we've lost overnight. I know folks are struggling."
The president warned that it would "take months, even years, to dig our way out" of the most recent economic recession.
The announcement came as the U.S. government reported the U.S. unemployment rate fell to 9.5 percent last month as more than half a million people abandoned the job hunt, fueling doubts about the economic recovery. The Labor Department reported on Friday a net loss of 125,000 jobs last month.
The biggest cause for concern had been the weakness of the private sector, which created a modest 83,000 jobs in June, well up from May's revised total of 33,000.
Faced with an uncertain outlook and poor access to credit, U.S. firms have been reluctant to rehire workers.