Art world worried about new rule on air cargo
Published 16 February 2010
As of 1 August, all items shipped as cargo on commercial passenger airplanes will have to go through airline security screening; as much as 20 percent of art shipped around the world travels this way, and museums, galleries, and collectors are worried: even the faint possibility of an airline inspector with a screwdriver uncrating a Calder sculpture or an early Renaissance tempera painting is enough to keep many in the art world awake at night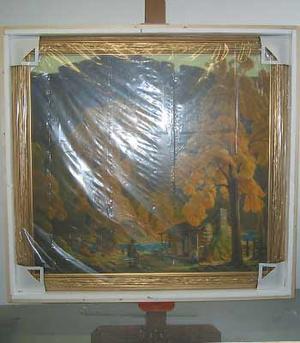 Fine art crated for shipping would be subject to inspection under new rule // Source: callahanartandassociates.com
Collectors and dealers of fragile, expensive art have never wanted for reasons to stay awake at night. A piece could plunge from a wall. Somebody could stumble into it or step on it or add a new color to it with a splash of red wine. Contemporary art, sometimes made to resemble trash, has occasionally been mistaken for it and thrown away.
The New York Times's Randy Kennedy writes that those responsible for safeguarding art will soon have a new category of anxiety, the stuff of real nightmares: the possibility that airline employees could open carefully wrapped and crated works of art to search them the way checked baggage is sometimes searched now, poking around Picassos instead of sweaters and socks.
The Transportation Security Administration (TSA) has mandated that beginning on 1 August, all items shipped as cargo on commercial passenger airplanes — estimates are that as much as 20 percent of art shipped around the world travels this way — will have to go through airline security screening.
Since last February, airlines have been required to screen half of their passenger-air cargo (and, since late 2008, all cargo on narrow-bodied jets). Shippers, though, say that several categories of cargo, including art, pharmaceuticals, high-tech equipment, and perishable food, are almost always passed over when airlines have discretion because of the difficulty of searching such crates should an explosives-residue test or bomb-sniffing dog give reason to do so.
Kennedy writes that since news of the requirement began to spread last year, many large museums, like the Museum of Modern Art, the Metropolitan Museum of Art, the J. Paul Getty in Los Angeles, and the National Gallery in Washington have enrolled in a federal program that allows them to create secure screening facilities within their own buildings. In these rooms the institutions can inspect art, crate it, and mark it with special seals, locks, and tape that will mean that its chances of being re-screened by airline personnel are minuscule. Many large art-shipping companies have also become certified to screen and securely pack art themselves.
Art-shipping experts say that the burden of the new regulations will fall more heavily on galleries and private dealers than on museums, which typically plan exhibitions years in advance and can arrange for shipping that avoids passenger planes. Galleries, on the other hand, often put together shows much more quickly and strike last-minute deals for buying and selling art that can mean