In the trenches

BAE Systems completes first flight test of persistent surveillance

Published 10 February 2010

The ARGUS-IS offer a new real-time persistent surveillance capability for U.S. combat forces to detect, locate, track, and monitor events on battlefields and in urban areas — providing significantly greater video coverage over current airborne capabilities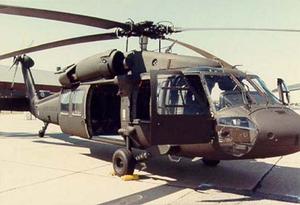 A Black Hawk helicopter of the type used to test the ARGUS-IS // Source: tri.army.mil
BAE Systems has completed the initial flight test of a new real-time persistent surveillance capability for U.S. combat forces to detect, locate, track, and monitor events on battlefields and in urban areas — providing significantly greater video coverage over current airborne capabilities.
The first flight tests of the Autonomous Real-Time Ground Ubiquitous Surveillance Imaging System, or ARGUS-IS, occurred aboard a U.S. Army Black Hawk helicopter. The tests demonstrated the system's multiple video windows for persistent area surveillance and tracking capabilities for vehicles and dismounted soldiers.
The airborne processing system can simultaneously and continuously detect and track the presence and motion of thousands of small or large targets over an area covering tens of square miles. BAE Systems designed and produced the system's sensor and processor.
"ARGUS-IS will significantly advance the Army's capability to protect its troops through improved search and surveillance capabilities," said Dr. John Antoniades, ARGUS program manager and director of remote sensing technology for BAE Systems.
BAE Systems equipment aboard ARGUS-IS consists of a high-resolution, extreme wide-area, real-time video sensor; an on-board processing system; and ground processing for interactive multi-target designation, tracking, and exploitation. "The ARGUS-IS system overcomes the fundamental limitations of current airborne surveillance systems," said Dr. Steven Wein, director of optical sensor systems at BAE Systems. "Very high-resolution imaging systems required for vehicle and dismount tracking typically have a 'soda-straw' view that is too small for persistent coverage. Existing wide-area systems have either inadequate resolution or require multiple passes or revisits to get updates."
The Defense Advanced Research Projects Agency (DARPA )and the U.S. Air Force Research Laboratory awarded BAE Systems an initial $18.5 million contract to lead the ARGUS-IS effort in late 2007. The system is targeted for use in Department of Defense unmanned and manned surveillance platforms.
BAE Systems has approximately 105,000 employees worldwide, and its sales exceeded $34.4 billion in 2008.