HSNW conversation with Glenn Martin

First responders could be zipping through skies within two years

Published 25 January 2012

Glenn Martin, the inventor of the Martin Jetpack, the world's first commercially available jetpack, recently spoke with Homeland Security NewsWire's executive editor Eugene K. Chow; in their interview Martin discusses the technical challenges of developing a viable jetpack, its uses in emergency response, and when we can expect to see civilians zipping through the skies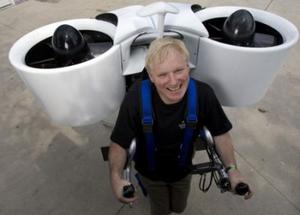 Glenn Martin, developer of the Martin Jet Pack // Source: Martin Jet Pack
Homeland Security NewsWire: What inspired you to build a jetpack?
Glenn Martin: Like all five year old boys, I just wanted a jetpack for fun. I never realized until later that there would be huge opportunities in SAR (search and rescue), border patrol, military, medical evacuation, and commercial uses.
It was not until after the jetpack was revealed to the world that we began receiving thousands of inquiries and strong interest from professional organizations.
HSNW: What were some of the biggest technical challenges in getting this jetpack off the ground?
GM: The patented torque neutral thrust system. This is the unique fans and thrusters that enable us to do two things better than anyone else in the world.
Firstly, we convert power into thrust with up to 92 percent efficiency, higher than anything else out there. Secondly, we do this without producing a residual torque, so we do not need a tail rotor like a helicopter does.
HSNW: On your company's website, it mentions that first responders and emergency management agencies have shown particular interest in the jet pack. How do you envision first responders using your product?
GM: We can get first responders there quicker than an ambulance or motorbike and land in urban or rugged environments where a helicopter cannot. This is primarily to asses, stabilize the patient, and shorten the golden hour. To see a demonstration of this, you can view an online video here.
In addition to first responders, we have been approached by a number of countries and agencies wishing to use the Jetpack for border patrol, surveillance, and also as an unmanned aerial vehicle (UAV).
HSNW: Has your company run into any legal hurdles in terms of using these vehicles in civilian airspace?
GM: The aircraft was designed from the ground up to comply with FAA part 103, which allows us in class E airspace. Military and government use is country specific and we have not had issues in most countries, but urban U.S. airspace will require more approvals.
HSNW: How soon will it be before we begin to see first responders zipping through the air?
GM: I am not sure, that depends on a number of factors, but soon – perhaps a year or two.
Glenn Martin, the inventor of Martin Jetpack, is the founder ofChristchurch, New Zealand-based Martin Jetpack.