Public health

California mandates vaccinations after worst Whooping Cough epidemic in 60 years

Published 11 January 2011

In 2010 California experienced the worst epidemic of whooping cough since 1947; the disease killed ten and infected more than 7,800 people; to avoid another outbreak a new California law requires children in seventh to twelfth grades to be vaccinated against Whooping Cough; the outbreak may have been the result of decreases in vaccinations among children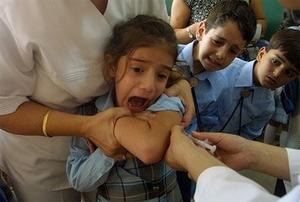 California mandates vaccinations // Source: motherearthbeats.com
After experiencing the worst outbreak of whooping cough in the past sixty years, California lawmakers have passed legislation that will require all children in grades seven through twelve to be vaccinated against the preventable disease.
According to CNN, in 2010 there were more than 7,800 cases of whooping cough, or pertussis, reported in the worst epidemic to hit the state since 1947. The disease claimed the lives of ten children – all less than three months old. Michael Sicilia, a spokesman for the California Department of Public Health (CDPH), believes that those deaths could have been easily avoided had more people been vaccinated.
Based on CDPH data, of the infants that died, an estimated 50 percent were infected by their parents or caregivers meaning had they been properly vaccinated it would have reduced the chances of them passing the contagious bacteria to susceptible children. Of the ten deaths, nine of the children were under eight weeks old and therefore too young to receive vaccines.
Infants are only eligible for their first pertussis vaccine when they are two months old, leaving them susceptible to adults who carry the disease. The vaccine wears off over time and "does not protect you for life," says Allison Patti, a spokesperson for the Centers for Disease Control and Prevention (CDC), so boosters are necessary for adults and teens.
Some scientists speculate that the recent epidemic may have been caused by a decline in vaccinations among children. As CNN reports, while vaccination rates remain strong overall, those with private health insurance plans are increasingly opting out of vaccinations in what could be a growing trend. For the first time ever, in 2009, rates of vaccination for children on private insurance plans fell 4 percent.
Jason Glanz, a senior scientist and epidemiologist at Kaiser Permanente's Institute for Health Research, explains that many well-educated, Caucasian, upper-middle class parents have grown increasingly skeptical of immunizations.
This trend is particularly disturbing to doctors because these parents are rejecting sound medical advice that has saved millions of lives and largely eradicated once deadly diseases like polio, measles, and diphtheria.
In a way, the success of vaccines is its own worst enemy. "Vaccines have been so effective that people now don't even know what the disease looks like or what problems the diseases can cause," said Dr. Robert Frenck, professor of pediatrics in the infectious diseases division of Cincinnati Children's Hospital Medical Center. As a result, parents don't feel compelled to spend money to vaccinate their children against diseases that they see as archaic and from another time.
Parents are also choosing to opt their children out of vaccination because they believe that they may actually result in harmful side effects. Vaccines have very slim chances of actually harming an individual and have been widely considered the greatest success in modern medicine, dramatically reducing infectious diseases.
"Many parents who refuse or delay vaccines count on herd immunity from other families vaccinating their kids on time," said Dr. Jennifer Shu, CNN Health's Living Well expert.
While the worst has subsided in the California Whooping Cough epidemic, officials are seeking to prevent a similar outbreak from occurring this year by mandating all school children in grades seven through twelve receive vaccines for the disease. The legislation takes effect on 1 July 2011.