Emergency communication

DC officials receive priority disaster phone access

Published 17 October 2011

During major disasters or a terrorist attack, phone lines quickly become inundated with traffic which makes it nearly impossible for residents to make calls or send texts; to ensure that local officials have the ability to communicate during disasters, DHS recently issued special calling cards to members of the Washington, D.C. City Council that allow their calls to take priority during moments of heavy phone traffic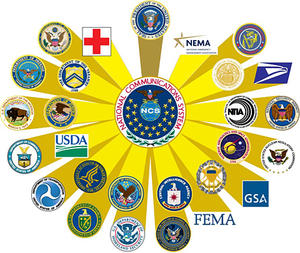 GETS communication system logo // Source: ncs.gov
During major disasters or a terrorist attack phone lines quickly become inundated with traffic which makes it nearly impossible for residents to make calls or send texts.
Government officials who use the same networks as civilians are similarly affected, making it difficult for authorities to effectively respond and coordinate relief efforts.
To ensure that local officials have the ability to communicate during disasters, DHS recently issued special calling cards to members of the Washington, D.C. City Council that allow their calls to take priority during moments of heavy phone traffic.
The cards come as part of DHS' Government Emergency Telecommunications Services (GETS), which offers "emergency access and priority processing in the local and long distance segments of the Public Switched Telephone Network (PSTN)."
According to the GETS website, the cards are "intended to be used in an emergency or crisis situation when the PSTN is congested and the probability of completing a call over normal or other alternate telecommunication means has significantly decreased."
Using a cell phone or standard land line, a card holder can dial through to a special GETS call service and enter their unique PIN number to verify their identity. Once verified, the user's call is given priority. Calls placed with GETS cards result in 90 percent completion rates even when call volume is eight times higher than usual.
Critical personnel from local, state, federal, and tribal agencies as well as the private sector and non-governmental organizations who perform National Security and Emergency Preparedness (NS/EP) missions qualify to receive the cards.