Border security

DHS pulls plug on virtual border fence project

Published 17 January 2011

DHS has cancelled the ambitious SBInet border security project; the project aimed to erect a virtual fence along the U.S.-Mexico border, consisting of a system of cameras and sensors which would allow officers to monitor crossings and dispatch Border Patrol agents to catch anyone entering the United States illegally; Boeing, the primary contractor, was hobbled by technical problems involving the effectiveness of video cameras and other elements, resulting in the project falling far off schedule; a year ago, after DHS had spent $672 million on the project and Boeing had little to show for the money, the project was put on hold; DHS will now look at an alternative system which is likely to rely more on UAVs and thermal imaging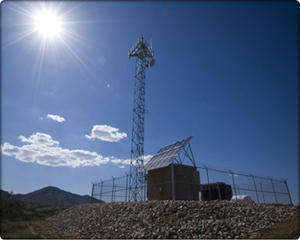 One of SBInet's observation stations // Source: boeing.com
DHS secretary Janet Napolitano announced Friday that she has canceled the troubled virtual fence project along the southwest border, proposing a new plan which she claims will better address each region's border security needs.
The decision comes a year after the secretary ordered a review of the project, which was hampered by delays and technological glitches, and froze its funding. The original plan, known as SBInet, envisioned a system of cameras and sensors which would allow officers to monitor crossings and dispatch Border Patrol agents to catch anyone entering the United States illegally.
Napolitano said her department briefed members of Congress on Friday about the final decision to nix the program "as originally conceived." She said DHS will pursue a "new path forward" for security along the 2,000-mile southern U.S. border. The secretary said that while the U.S. cannot provide a "single, integrated border security technology solution," the new plan will use different technologies in different areas.
Fox News reports that this could mean a system of surveillance towers in one area and unmanned drones in another. It could mean thermal imaging in one area and elements of the old SBInet plan in another.
"There is no 'one-size-fits-all' solution to meet our border technology needs, and this new strategy is tailored to the unique needs of each border region, providing faster deployment of technology, better coverage, and a more effective balance between cost and capability," Napolitano said.
Representative Bennie Thompson (D-Mississippi), a leading critic of the old virtual fence plan, applauded Napolitano's decision. "The SBInet program has been a grave and expensive disappointment since its inception," said Thompson, ranking Democrat on the House Homeland Security Committee. "I am glad that DHS and (Customs and Border Protection) are finally listening to what we have been saying for years — that the sheer size and variations of our borders show us a one-stop solution has never been best."
The project was first proposed under the George W. Bush administration. When SBInet was put on hold a year ago, it had cost the government $672 million. Technical problems, involving the effectiveness of video cameras and other elements, had by that point pushed the project far off schedule.
Republicans have since been torn over the decision to sideline the virtual fence. Republicans like Arizona Senator John McCain shared the administration's concern about mismanagement while others fretted that the government would not present a viable alternative. Border security-conscious lawmakers will surely weigh in on whatever proposal Napolitano puts on the table next, something she said would be worked out this year.
"Independent, quantitative, science-based assessments will continue along each sector of the southwest border in 2011 to determine the optimal combination of technology for each region," Napolitano said.
Despite potential concerns about what will fill the void, a DHS official told Fox News that Border Patrol is better staffed "than at any time in its 86-year history." The official said the administration has doubled the number of agents since 2004 to more than 20,500. The official said the deployment earlier in the year of 1,200 National Guard and other initiatives have helped border officials seize more illegal cash, more illegal drugs and more illegal weapons over the past two years.