Emergency communication

Atlanta debuts new emergency communications systems

Published 19 December 2011

Last week first responders in Atlanta, Georgia gained a valuable new tool in helping to reduce 911 response times and improve communication during a disaster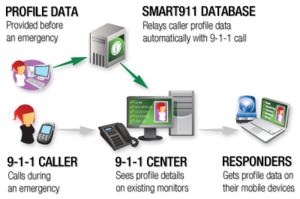 Smart911 system provides caller provided profile available at call // Source: ravemobilesafety.com
Last week first responders in Atlanta, Georgia gained a valuable new tool in helping to reduce 911 response times and improve communication during a disaster.
On Thursday the city unveiled its new Smart911 system which allows dispatchers to pull up a profile that callers created themselves so first responders will have critical details during an emergency.
"By creating a Smart911 profile online, first responders will have the critical information available to them when responding to 911 calls. Through this confidential and secure exchange of information, we'll be able to better serve our residents and the greater community," said Mayor Kasim Reed. Atlanta Police Chief George Turner explained that, "Citizens have the ability to include such information as the names and photos of family members, medical conditions (such as disabilities or allergies), home addresses of mobile phone callers, and other rescue notes."
"This additional information allows us to arrive on scene with a better understanding of the situation," Turner added.
"You can put in any special health needs that you have. For example, if you're on an oxygen tank, that's something that's going to be important for first responders to know. If you have any specific rescue needs, or maybe there's specific equipment that's required, or additional personnel that's required for your rescue. That's something that without Smart911 first responders don't know until they arrive," saidSmart911 spokesperson Todd Miller.
Smart911 is a free service and Atlanta residents have been encouraged to head to Smart911's website to set up their own emergency profile.
Last week, the city also unveiled its new Everbridge emergency notification system that allows the police department to automatically send targeted public safety alerts via text, email, or phone.
According to Patrick Stuver, a spokesman for Everbridge, emergency officials will be able to draw a circle on a map or even pick a specific street near a disaster to geotarget which citizens receive alerts in real-time.
In total the city spent a little over $150,000 to install the new systems.