Portable hospitals

Georgia readies portable hospitals

Published 21 December 2011

On Monday local health and emergency response officials from Georgia's West Central Health District gathered to learn how to quickly set up a portable hospital in the event of an emergency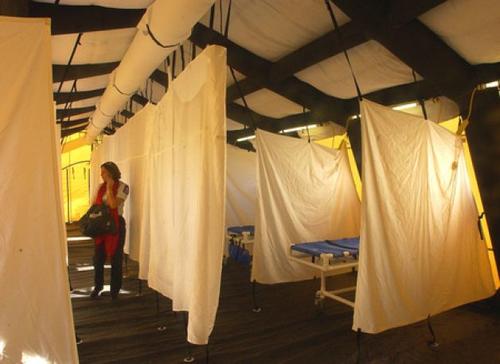 Portable hospitals, like this inflatable model, can deploy on short notice // Source: beaumontenterprise.com
On Monday local health and emergency response officials from Georgia's West Central Health District gathered to learn how to quickly set up a portable hospital in the event of an emergency.
The portable hospital is designed to provide an immediate healthcare facility for critically injured residents during a major disaster.
The region has already had to use the portable facility when in 2007 a tornado tore through the Sumter Regional hospital.
"This system was used for about two months in Americus when the tornado hit the hospital there," said Hank Wilson of the West Central Health District.
The state of Georgia now owns eight portable hospitals thanks to funding from DHS.
Each hospital consists of four inflatable nylon tents equipped with heating and air conditioning. Meanwhile smaller supplemental tents contain a shower and a portable toilet.
To ensure that these portable hospitals are fully equipped, two long trailers fully stocked with medical supplies are kept at the ready at all times.
"The whole hospital takes about five hours to put together," Wilson said, and can treat as many as fifty people at any given time.
Mark Smith, the Columbus Regional Director of facilities, who participated in the training, said each local hospital has set aside an area where portable facilities can be erected.
Columbus has several hospitals in the area, but in the event of an emergency, Smith said that portable hospitals might be needed.
"A lot of the hospital beds in the city have people in them. Also, you never know how many people will need help in a disaster."
The newest portable hospital has been set aside for the West Central Health District and will be stationed in Richland, Georgia until it is needed.