Port security

Underwater drones help NYPD secure harbor

Published 21 December 2011

The New York Police Department (NYPD) has a new high-tech ally in its fight to keep the city safe from terrorists; to help sweep the city's waterways and bridges of dangerous bombs, the NYPD's Harbor Unit recently acquired six unmanned underwater drones that help sniff out explosives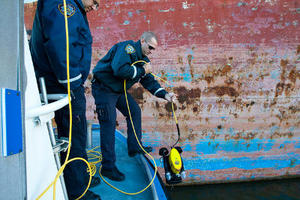 NYPD harbor patrol deploying underwater drone // Source: geinvestigations.com
The New York Police Department (NYPD) has a new high-tech ally in its fight to keep the city safe from terrorists.
To help sweep the city's waterways and bridges of dangerous bombs, the NYPD's Harbor Unit recently acquired six unmanned underwater drones that help sniff out explosives.
In a recent demonstration, NYPD officers threw the sixteen pound submersible equipped with lights and sonar into the New York harbor and steered it beneath the hull of a colossal tanker moored near the Brooklyn Army Terminal.
Officers were able to guide the drone via a remote control and using its camera search below the ship in real-time. Detective William P. Devine and other drone operators have been trained to identify what biological or radiological weapons look like and where underwater explosives or narcotics are most likely hidden underneath boats.
Since 9/11, the Harbor Unit is primarily called upon to perform counterterrorism operations rather than rescue and recovery operations.
At times the unit receives several security bulletins from the NYPD's Intelligence Division each day, which requires that they inspect suspicious boats below bridges, sweep an incoming cargo ship's hull, or head over to the Statue of Liberty to check on an unidentified floating package.
With an estimated 10,000 cargo ships entering the port and millions of containers being offloaded, the officers recognize that the New York harbor is a prime terrorist target and they are often the first line of defense.
So far the Harbor Unit has yet to find a bomb, but if they were to find such a device they have been instructed to call in the Navy.
"We mark the location, get out of the water and call them," Devine said.
The NYPD has six ROVs, each costing $75,000 or $120,000 depending on its sophistication.