Border security

Texas unveils armed patrol boat

Published 12 January 2012

The Texas Highway Patrol recently added a fully-armed patrol boat to help officers secure the Texas-Mexico border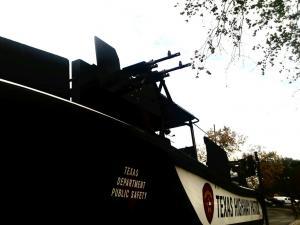 THP's new 36-foot patrol boat - well-armed and powered by 3 300hp engines // Source: sixpercent.org
The Texas Highway Patrol recently added a fully-armed patrol boat to help officers secure the Texas-Mexico border.
The thirty-four foot powerboat is armed with six .30 caliber machine guns set in four different firing positions.
To help protect officers, state trooper Erik Burse, said in a guided tour of the boat, that the "front area here will be lined with bulletproof glass."
The patrol boat comes as part of the Texas Highway Patrol's newly created Marine Unit, which will have a total of six customized boats.
The Marine Unit will be stationed throughout southern Texas primarily along the Rio Grande, with a mission of preventing drug cartels from smuggling their goods across the border.
Most recently an American tourist was killed in Falcon Lake by drug traffickers as they were crossing.
"It's an area that the Zeta drug cartels are notorious for bringing drugs into the United States across that lake at night," said Representative Ted Poe (R – Texas). "This will help stem the tide of the Zetas coming into the US," he said in reference to the patrol boats.