First responders

Link found between PTSD, respiratory illnesses in 9/11 responders

Published 13 January 2012

A new study finds that there are links between respiratory illnesses and post-traumatic stress disorder (PTSD) in 9/11 first responders; "This study illustrates the integral relationship between mental health and physical diseases that WTC responders suffer," one of the researcher says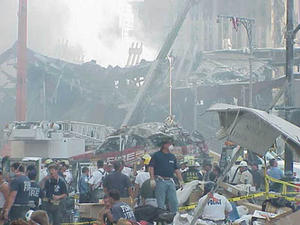 Study shows a correlation between PTSD and respiratory illness // Source: thewebfairy.com
A new study finds that there are links between respiratory illnesses and post-traumatic stress disorder (PTSD) in 9/11 first responders.
The study, led by Dr. Benjamin Luft, the Medical Director of Stony Brook's World Trade Center Health Program and Dr. Evelyn Bromet, a professor in behavioral science and preventative medicine at Stony Brook, examined thousands of 9/11 first responders who were exposed to both horrendous mental trauma and dangerous airborne toxins from the smoldering wreckage of the World Trade Center (WTC).
According to Dr. Luft, their research indicates that mental illnesses could be a possible factor in the development of physical symptoms for 9/11 responders.
"This study illustrates the integral relationship between mental health and physical diseases that WTC responders suffer," Dr. Luft explained. "The analysis not only shows that relationship but also connects PTSD as a possible co-factor in responders' diseases, which reinforces our view at Stony Brook's WTC Health Program that the illnesses suffered by 9/11 responders are a compilation of problems that often present as an entire syndrome of diseases and conditions."

The researchers examined more than 8,500 traditional first responders like police and fire fighters along with more than 12,000 non-traditional responders including maintenance and transportation workers. After carefully examining the patients over a six year period, Dr. Luft and his team found a clear pattern between 9/11 responders, PTSD, and respiratory symptoms.
Dr. Luft believes this linkage may suggest that PTSD could play a critical role in the relationship between exposure and symptoms.
As evidence, not only were PTSD rates were lower among traditional responders than non-traditional responders, but also their likelihood of suffering from respiratory illnesses. 5.9 percent of traditional responders suffered from PTSD compared to 23 percent of non-traditional responders, while 22.5 percent of traditional responders showed respiratory symptoms compared to 28.4 percent of non-traditional responders.
In examining the results, Dr. Bromet noted, "The results are indicative that PTSD appears to have a major and complex role in relation to respiratory illnesses in this patient population. Our findings mirror research results found in several veterans' populations and in patients in primary care settings around the world."
Dr. Bromet went on to say, "Mental and physical health are integrally linked. It is not always obvious which one is the driver, but in the end, what matters is that both mental and physical health are recognized and treated with equal care and respect."
Moving forward Dr. Bromet and Luft said the study highlights the need for mental health examinations for all 9/11 first responders in addition to checking for respiratory symptoms.
In addition, non-traditional responders who worked at Ground Zero should be given access to preventative programs as they seem to suffer from higher rates of PTSD compared to traditional responders.
"The results are a first step in nailing down the exact relationship between PTSD and respiratory illness. We need to continue to study the relationship and its implications to help us to better treat responders who suffer from multiple mental and physical conditions," Dr. Luft concluded.