Supply-chain security

Obama unveils global supply chain protection strategy

Published 3 February 2012

Last week the Obama administration unveiled its new counterterrorism strategy aimed at securing the entirety of the global supply chain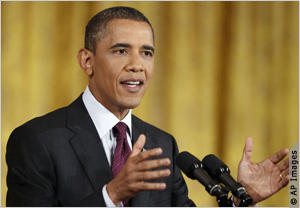 President Obama announcing global supply chain security initiative // Source: usembassy.gov
Last week the Obama administration unveiled its new counterterrorism strategy aimed at securing the entirety of the global supply chain.
Speaking in Davos, Switzerland at the World Economic Forum, DHS Secretary Janet Napolitano announced the U.S."National Strategy for Global Supply Chain Security."
The strategy focuses on preventing economic threats to goods bound for the United States and makes "[resolving] threats early," a priority for national security. DHS has already focused on securing cargo shipments entering the United States, but the new strategy also includes all "cyber and energy networks."
The latest announcement is an ambitious move as globalization has scattered production of various components to the far corners of the earth. Yosef Sheffi, an MIT professor who is an expert on risk in supply chains, said most companies cannot even identify all of their suppliers. As evidence he pointed to one manufacturer of iPhones which has roughly 400,000 suppliers. This practice has lowered costs, but also increased risks and made companies increasingly reliant upon one another.
"Many different entities are responsible for or reliant upon the functioning of the global supply chain, including regulators, law enforcement, public-sector buyers, private-sector business, and other foreign and domestic partners," said the new DHS strategy document. "The system relies upon an interconnected web of transportation infrastructure and pathways, information technology, and cyber and energy networks."
The new strategy orders federal agencies to begin focusing on "those components of the worldwide network of transportation, postal and shipping pathways, assets, and infrastructures by which goods are moved until they reach an end consumer."
It also calls on the United States to pressure trade partners to assist in securing the supply chain by entering "information-sharing arrangements, streamlining government processes, and synchronizing standards and procedures."
All federal agencies are required to begin taking action immediately and must report back within a year with a report on how their efforts have fared as well as "recommendations for future action developed during the outreach process" of talking with other countries.
The administration's new strategy comes in the wake of a series of catastrophic natural disasters that severely disrupted supply chains across Asia as well as attempted terrorist attacks using cargo planes.
"We have seen that disruptions to supply chains caused by natural disasters — earthquakes, tsunamis and volcanic eruptions — and from criminal and terrorist networks seeking to exploit the system or use it as a means of attack can adversely impact global economic growth and productivity," President Obama said in introducing the new strategy.
"As a nation, we must address the challenges posed by these threats and strengthen our national and international policies accordingly," he added.