IT infrastructure

National Weather Service budget cuts threaten poor IT infrastructure

The Obama administration has proposed cutting more than $39 million from the National Weather Service's (NWS) budget, particularly from its IT department, and critics worry that the cuts could cause the agency's already crippling infrastructure problems to grow worse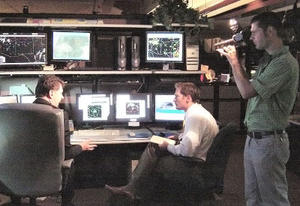 NWS station upgrades threatened by budget cuts // Source: noaa.gov
The Obama administration has proposed cutting more than $39 million from the National Weather Service's (NWS) budget, particularly from its IT department, and critics worry that the cuts could cause the agency's already crippling infrastructure problems to grow worse.
The cuts, which account for roughly 4 percent of NWS' budget, come as part of President Obama's effort to consolidate IT spending across federal agencies in the hopes of saving money.
To fulfill the administration's plan, the National Oceanic Atmospheric Administration (NOAA), NWS' parent agency, will consolidate NWS' 122 information technology officers, who are scattered across the United States in regional weather forecast offices, into a single regional one.
Dan Sobien, the president of the National Weather Service Employees Organization, fears that the move will have strong negative impact on the agency's operations.
"NOAA's response of IT infrastructure investment is laughable. We are an iPhone agency with an etch-a-sketch infrastructure. Download speeds at most weather forecast offices are no faster than they were a decade ago," Sobien told CNBC. "In many offices, you have more available bandwidth on your cell phone than the office has."
Sobien added that removing the information technology positions would be detrimental and make it more difficult to provide accurate forecasts, storm warnings, and keep web pages up to date.
In contrast Scott Smullen, a spokesperson for NOAA, said, "Past investments have led to technological improvements, making our IT systems more efficient and enabling the National Weather Service to fulfill these responsibilities remotely. NOAA does not believe this proposal will have an adverse impact on its mission to protect lives and property."
The proposed budget cuts also come amidst NWS' attempt to implement a new weather mapping system, The Advanced Weather Interactive Processing System, version 2 (AWIPS2), which is critical for improving the accuracy and efficiency of the agency's forecasting and warning programs. AWIPS2 has already suffered delays and technical problems in its implementation and Sobien believes cutting the agency's technology staff now would be foolish.
"The National Weather Service is making rash decisions that could have catastrophic consequences," Sobien said in a statement. "It makes no sense to implement AWIPS 2 before the program is ready and then fire all the IT guys who are responsible for fixing the problems."