License-plate readers

California bill would restrict data usage from license plate scanners

Legislation has been introduced in California to limit the use of data gathered by patrol car-mounted license plate readers, and the duration for which such data may be held; access to the data by other agencies and personnel would be limited as well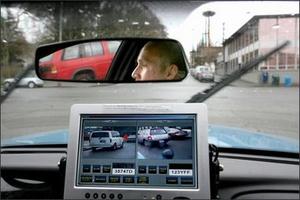 Over time, license plate scanners can build a large database of the movement of any driver // Source: blogspot.com
A California state senator has introduced legislation that would limit the use of data gathered by patrol-car mounted license plate readers.
According abclocal.go.com, State Senator Joe Simitian wants to have police agencies retain data gathered by license plate readers for no more than sixty days, unless they are part of a felony investigation. Police maintain that the license plate scans are an invaluable tool in tracking down and recovering stolen vehicles, and in apprehending individuals with outstanding warrants. The scanning devices are capable of scanning several plates simultaneously, and of comparing those plates to information in a database of stolen vehicles or persons with outstanding warrants. They also allow determination of whether a particular vehicle has returned to a previous recorded location, and how frequently.
At heart, this is a privacy issue in that each license plate scan captures a wide array of data, such as the location and direction along with a time stamp. Over a period of time, it would be possible to build a profile of the movements of innocent individuals.
Another concern is that this information could be accessed by third-parties for their own purposes.
State Senator Simitian worked in hammering out the operational details of the database developed by the scanner, limiting the database to sixty days unless the records were part of an ongoing felony investigation. The legislation would also limit access to the database to duly constituted police officers, and prohibits turning the data over to organizations that were not law-enforcement agencies.
One unclear area is the use of the scanners at public parking areas, such as malls and sporting arenas. The use of the scanners at a shopping mall, under a unique partnership with the Sacramento Police Department, has led to the recovery of more than seventy stolen vehicles, and fifty arrests, since it has been implementation in early 2009.