Domestic terrorism

Fort Hood incident report calls for sweeping changes in FBI's approach

A report of the 2009 Fort Hood shooting will recommend eighteen specific changes which will make the FBI more likely to detect such insider threats earlier; the report, written by William Webster, the former director of the FBI, will be on the desk of Robert Mueller, the current FBI director, next week; the report's authors focused on the FBI and the agency's more than a hundred Joint Terrorism Task Forces (JTTFs) and how they handled and acted on counterterrorism intelligence before and after the shootings … and the FBI's remedial measures in the aftermath of Fort Hood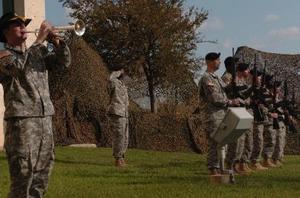 Memorial service at Fort Hood // Source: army.mil
A report of the 2009 Fort Hood shooting will recommend eighteen specific changes which will make the FBI more likely to detect such insider threats earlier. The report, written by 88-year old William Webster, the former director of the FBI, will be on the desk of Robert Mueller, the current FBI director, next week. "The Final Report will exceed 150 single-spaced pages in length and include eighteen (18) formal recommendations for corrective and enhancing measures on matters ranging from FBI policies and operations to information systems infrastructure, review protocols and training" Webster wrote in a letter to Representative Frank Wolf (R-Virginia).
Webster said his team focused on the FBI and the agency's more than a hundred Joint Terrorism Task Forces (JTTFs) and how they "handled and acted on counterterrorism intelligence before and after the shootings … and the FBI's remedial measures in the aftermath of Fort Hood."
Fox News reports that that the FBI was aware that Maj. Nidal Hasan, the Fort Hood shooter, was in touch with Anwar al-Awlaki, the radical U.S.-born cleric who was killed by a CIA dron last August. The FBI was also aware of proclamations by Hassan that suicide bombing against Americans was justified. In fact, Hasan's statements became a problem because his fellow students at Walter Reed Medical Center in Washington, D.C., were so alarmed by them, that some fled the classroom.
Still, in summer 2009, the FBI's JTTF decided not to interview Hasan's Army supervisors because they were concerned about hurting his career.
In his 27 June letter to FBI director Mueller, Wolf formally requested that a copy of the Webster Report, in draft or final form, be made available to Congress by 15 July. "I am deeply concerned that as we approach the third anniversary of the Fort Hood attack, this report has still not been released to the Congress or the American people."
Wolf urged the director not to delay the release of the report. "The independent review of this terrorist attack — which occurred in the first year of the Obama Administration — may not be released until near the end of his term. There is no excuse for such an important review to span nearly a full presidential term of office."
Wolf also said both the Clinton and Bush administration ignored warnings before 9/11. "I fear that now, as was then, the government is not doing enough to learn from past threats and attacks to prevent and prepare for future threats. People died in the attack on Fort Hood. We have to learn from this tragedy."
The Fox News report notes that the Webster's review of the Fort Hood massacre, coming more than a decade after 9/11, is expected to be seen as "a pivotal, outside assessment of whether the FBI has made the transition from a case-driven law enforcement culture where turf wars raged to an intelligence-driven organization that can more fully utilize analysts and share intelligence with other departments, including the military."