Infrastructure protection

Geoengineering clouds to slow global warming

Researchers are taking a second look at the possibility of using futuristic ships to shoot salt water high into the sky over the oceans, creating clouds that reflect sunlight and thus counter global warming; The theory behind idea, called "marine cloud brightening," is that adding particles, in this case sea salt, to the sky over the ocean would form large, long-living clouds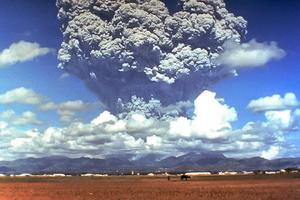 Ash cloud from Mt.Pinatubo shows geoengineering potential // Source: ucsd.edu
It may sound like science fiction, but researchers are taking a second look at the possibility of using futuristic ships to shoot salt water high into the sky over the oceans, creating clouds that reflect sunlight and thus counter global warming.
University of Washington atmospheric physicist Rob Wood describes a possible way to run an experiment to test the concept on a small scale in a paper published this month in the journal Philosophical Transactions of the Royal Society A.
A University of Washington release reports that the point of the paper — which includes updates on the latest study into what kind of ship would be best to spray the salt water into the sky, how large the water droplets should be, and the potential climatological impacts — is to encourage more scientists to consider the idea of marine cloud brightening and even poke holes in it. In the paper, he and a colleague detail an experiment to test the concept.
"What we're trying to do is make the case that this is a beneficial experiment to do," Wood said.
With enough interest in cloud brightening from the scientific community, funding for an experiment may become possible, he said.
The theory behind so-called marine cloud brightening is that adding particles, in this case sea salt, to the sky over the ocean would form large, long-living clouds. Clouds appear when water forms around particles. Since there is a limited amount of water in the air, adding more particles creates more, but smaller, droplets.
"It turns out that a greater number of smaller drops has a greater surface area, so it means the clouds reflect a greater amount of light back into space," Wood said. This creates a cooling effect on Earth.
The release notes that marine cloud brightening is part of a broader concept known as geoengineering which encompasses efforts to use technology to manipulate the environment. Brightening, like other geoengineering proposals, is controversial for its ethical and political ramifications and the uncertainty regarding its impact. These concerns are not reasons not to study it, Wood said.
"I would rather that responsible scientists test the idea than groups that might have a vested interest in proving its success," he said. The danger with private organizations experimenting with geoengineering is that "there is an assumption that it's got to work," he said.
Wood and his colleagues propose trying a small-scale experiment to test feasibility and begin to