Food security

China's food production characterized by corruption, health-threatening practices

A report on Chinese TV showed rotten peaches spiked with sodium metabisulfite to make the fruit look fresh, seasoned in bleaching agents and additives harmful to the human liver and kidneys, and pickled in outdoor pools surrounded by garbage; the peaches are then packed in dirty bags which were previously used to hold animal feed, and shipped off to big brand stores; trouble is, this story is typical of, rather than an exception to, food production practices in China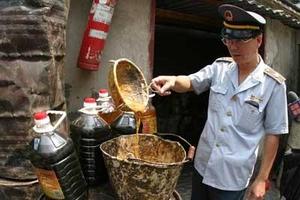 Chinese official inspecting toxic cooking oil // Source: baomoi.com
In a disturbing report, China's national broadcaster CCTV detailed the manufacturing process followed by sixteen different Chinese companies that sell preserved fruit.
The report showed rotten peaches spiked with sodium metabisulfite to make the fruit look fresh, seasoned in bleaching agents and additives harmful to the human liver and kidneys, and pickled in outdoor pools surrounded by garbage. The peaches are then packed in dirty bags which were previously used to hold animal feed, and shipped off to big brand stores.
The potentially toxic fruit is just the latest item on China's growing list of food products which are seriously dangerous to citizens. Baby formula adulterated with melamine made the headlines, but the New York Times reports that other food stuffs produced by Chinese manufacturers include meat containing banned steroids, rice contaminated with cadmium (a metal), noodles flavored with ink and paraffin, mushrooms treated with fluorescent bleach, and cooking oil recycled from street gutters.
A 2011 food study published by the Chinese Journal of Food Hygiene estimated that more than ninety-four million people become ill each year due to bacterial food-borne diseases, leading to an estimated 8,500 deaths annually.
The food safety problems are a result of the country's business ethics and the failure of government regulators to keep pace with an expanding market. Observers say that the poor government oversight is an indication of a deeper problem of a weakening civic morality.
In 2009 the Chinese government enacted the Food Safety Law to prohibit the use of unauthorized additives and materials and to provide a basis for food oversight from production to households. A national commission of three vice premiers and twelve minister-level officials was set up. The end result, however, has not been what the government or citizens were aiming for.
Inefficiency and corruption are widespread among the officials which were supposed to enforce these laws.
Now citizens are trying to take matters into their own hand. Farmers are beginning to eat only the food they grow, and the State General Administration of Sports has prohibited its athletes to eat anything outside of its facilities. Since 2008 the government has started setting up special food supply centers to make sure the wealthy and elite are eating organic food.
Prime Minister Wen Jiabao has invoked food scandals as examples of the "absence of integrity and a landslide of morality" in China, adding that "It would be absolutely impossible for a state to become a truly powerful and respectful one if it did not see improvement of its national quality and moral strength."
Change will not be easy or quick. One of the biggest problem in changing the ethics and business practices of food producers is the fact the Chinese elite has largely ignored the issue.