First responders

First responders train to deal with a new threat: zombie attack

Published 19 September 2012

A company specializing in training military units, federal, and state agencies in security, force protection, emergency response,and disaster management, has a new threat incorporated into its disaster-crisis scenario, which is part of the firm's annual counterterrorism summit in San Diego: a zombie attack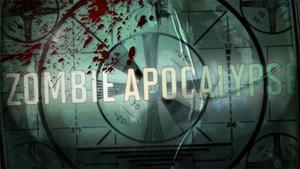 Zombie apocalypse has worked its way into disaster training // Source: scifi.sk
The far-fetched scenario of a government fighting a zombie-like threat has captured the attention of Brad Barker, president of security firm HALO Corp. In October Barker's firm will incorporate zombies into a disaster-crisis scenario at the firm's annual counterterrorism summit in San Diego.
The 5-day event will take place at the Paradise Point resort and will provide hands-on training, realistic demonstrations, lectures, and classes to more than 1,000 military personnel, law enforcement officials, medical experts, and state and federal government workers.
Business Insider reports that the threat of zombies becoming a part of the real world has been glorified in movies like "Dawn of the Dead," "Zombieland," and "Resident Evil," as well as television series such as "The Walking Dead." All these productions were very successful, especially "The Walking Dead," which was originally slated to be a 6-episode miniseries and will now release its third season late next month.
Barker calls the scenario the "zombie apocalypse," a phrase that took off last year when the Center for Disease Control and Prevention (CDC) unveiled a campaign on being prepared for major emergencies, natural disasters, and pandemics.
"The 'Zombie Apocalypse' is very whimsical," Barker told Business Insider, noting the setting is intended to add some levity to the more dire scenarios summit goers will encounter — incidents depicting active shooters inside a hospital or downed pilots trapped behind enemy lines, for instance. The pandemic medical nightmare is bound to be an attention-getter among people attending the summit.
"They are going to see a lot of stuff go down," Barker told Business Insider. "It is a Hollywood production."
The zombies will roam the island,harassing troops, first-aid teams,and medical responders. HALO declined to give the specifics of the scenario saying only that the idea is to challenge authorities as they respond to extreme medical situations in whichpeople become crazed and violent.
The event will also include lessons learned from real disasters and terror events,including situations in Iraq, Afghanistan, and the deadly 2008 bombing in Mumbai, India. Cyber terrorism, which is becoming a serious threat, will also play a significant role throughout the summit.
"The new battlefield is cyberspace, for sure." Barker told Business insider.
Tom McAtee, a former Marine now working as HALO's tactical operations director,said that during the summit, participants' cell phones and e-mail accounts could be hacked, rattling some people when they realize how easy it is for a hostile force to compromise personal information.
"The awareness is going to be monumental," McAtee told Business Insider.
To pull off the event, HALO has teamed up with Strategic Operations Inc., which specializes in hyper-realistic combat trauma training whichuses special effects and characters.
HALO Corp. trains military units, federal, and state agencies in security, force protection, emergency response,and disaster management.