Hazmat

Feds, rail operators, Washington State embroiled in crude oil shipment disclosure dispute

Last month the U.S. Department of Transportation(DOT) ordered rail carriers with trains carrying crude oil to notify state officials in the states through which the trains pass about the volume, schedule, and routes of these trains. The amount of crude oil transported by trains has grown dramatically – from 6,000 carloads in 2005 to more than 400,000 carloads in 2013. The increase in the volume of crude oil shipping has been accompanied by a sharp rise in the number of accidents and derailments. DOT's order was meant to allow states' first responders to be prepared, but the railways treat shipping information as "security sensitive" and refuse to share it with states' officials unless the information is distributed to emergency response groups for planning purposes only. Washington State says that state laws require that such information be made public.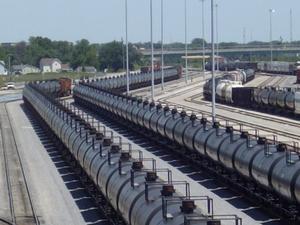 More oil transport by rail means greater chance of accidents // Source: northwestern.edu
BNSF Railway and Union Pacific Railroad are attempting to prevent the state of Washington from publishing details about oil shipments which pass through the state. This comes a month after the Department of Transportation (DOT) ordered railroads carriers with trains carrying thirty-five tank cars or more of oil to notify state officials about the volume, frequency, and routes of trains carrying one million or more gallons of crude oil from the Bakken region of North Dakota, Montana, and parts of Canada through the respective states (see "U.S. to require railroads to notify states when oil is shipped," HSNW, 16 May 2014).
DOT officials said they expected the states "to treat this data as confidential, providing it only to those with a need-to-know, and with the understanding that recipients of the data will continue to treat it as confidential." Mark Stewart, a spokesman for the Washington Military Department's Emergency Management Division, said, however, that restricting such information violates the state's public records law.
The Miami Herald reports that two weeks ago, BNSF Railway and Union Pacific Railroad sent Washington state confidentiality agreements aiming to limit the "security sensitive" information to emergency response groups for planning purposes only. Washington's Emergency Response Commission (ERC) instead presented alternative agreements to the railroads, noting that the information may be subject to disclosure, but a state official would notify the railroads beforehand so the railroads could seek a protective order or another legal remedy.
Union Pacific Railroad spokesman Aaron Hunt told state officials that the company does not transport Bakken crude oil trains at the mandate's reporting threshold, and less than 1 percent of its 163,000 carloads of crude oil shipped across its national network go through Washington. Courtney Wallace, a spokeswoman for BNSF Railway, said the company would comply with the DOT mandate but insists that the information is "considered security sensitive and confidential, intended for people who have 'a need to know' for such information, such as first responders and emergency planners."
Last month, ERC approved a plan to publish railroad shipment data online, but Stewart has said that the information would be posted only after any legal issues from a disclosure request are resolved. Washington has witnessed crude oil shipments increase from zero in 2011 to seventeen million barrels in 2013. The numbers will increase if proposed oil terminals at the ports of Grays Harbor and Vancouver and at the state's refineries get built.