Authentication

Selfies could replace security passwords – but only with an upgrade

The next time you do some online shopping or call your bank, you may find you no longer have to scrabble around to remember your security password. Banks are increasingly turning to voice recognition technology as their preferred way of ensuring customers are who they say they are when they use telephone banking services. But does this kind of technology really mean that you'll soon be able to just forget your passwords? The short answer right now is "no."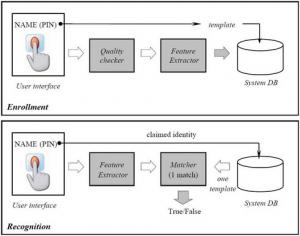 Biometric recognition system // Source: msu.edu
The next time you do some online shopping or call your bank, you may find you no longer have to scrabble around to remember your security password. Banks are increasingly turning to voice recognition technology as their preferred way of ensuring customers are who they say they are when they use telephone banking services. Mastercard has even announced that it will accept fingerprints or selfies as proof of identity for online purchases.
But does this kind of technology really mean that you'll soon be able to just forget your passwords? The short answer right now is "no." Banks are adopting voice recognition technologies (often known as "speaker identification" in research literature) and face recognition primarily for verification, not identification. These technologies are a reasonable tool for verifying a person is who they claim to be because machines can learn how one person normally speaks or looks. But they are not yet good methods of identifying a single customer from the very large number of possible voices or faces a bank might have in their database.
For voice identification to work, the difference between your voice and others' (inter-speaker variation) must always be greater than the difference between your voice now and on another occasion (intra-speaker variation). The same is true with "selfie recognition"; you need to look more like the normal you than anyone else does. In practice, this doesn't always happen. The more voices or faces a system compares, the more likely it will find two that are very similar.
Imagine all the things that can change your own voice when you make a phone call: a blocked or damaged microphone, tiredness, mouth or throat pain, drinking excessive amounts of alcohol, eating curry or misplaced dentures. These make intra-speaker variation large. For face recognition, facial hair, complexion changes, makeup, glasses, lighting and face coverings all contribute to changes in the way you look.
The consequence is that banks have a fair chance of "verifying" that a caller or selfie-taker is who they claim to be, but not of "identifying" an unknown voice or selfie. So we will still need a way to identify ourselves for the foreseeable future, and the best method remains a secret PIN or password.