CBP

After 4 years CBP IA disabled vet still mired in employment procedures

Lieutenant Commander J. Gregory Richardson (retired), a decorated Naval officer with almost thirty years of military service to his country, maintains that while employed as a GS-14 Senior Security Analyst in the Integrity Programs Division (IPD) at Customs and Border Protection Internal Affairs (CBP IA), his immediate supervisors and the Senior Executive at CBP IA repeatedly ignored his multiple medical issues. The failure of these supervisors, alleges Richardson, led to a deterioration in his medical conditions until, finally, he could no longer endure the pain from which he suffered. He missed many days at work, and this absenteeism, according to documents provided, was a major reason he was fired from IPD. Since 2013 Richardson has been seeking information from CBP about any investigations or reports about him while he was an employee.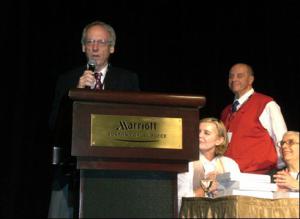 ECU professor Dr. Lee Maril receives an honor for his research // Source: ecu.edu
Lieutenant Commander J. Gregory Richardson (retired) tentatively climbs out of his car in the parking lot in front of the Whole Foods Market in Richmond, Virginia. From a table by the coffee bar inside, it is clear that Richardson walks very slowly and carefully crossing the asphalt to the store's entrance only fifty feet from his parking spot. As the double glass doors automatically open for Richardson, he hesitates a beat then, one step at a time, moves in my direction.
Noticeably stooped from his recent surgery and other medical issues, Richardson in an interview this month has obviously been affected by his multiple medical problems. Dressed in khaki shorts and a faded shirt, Richardson looks to be a powerfully built individual reflecting his years as a military officer. However, Richardson is admittedly in pain although in person he makes every attempt to minimize it.
—————————————————————————————————————-
Also read:
"Violence and corruption scandal at CBP: FBI clean up or cover up? Pt. 6 ," 17 June 2015
"CBP IA Operation Hometown reduces violence and corruption: Tomsheck shuts it down — Pt. 5," 27 April 2015
"CBP IA's SAREX: Tomsheck's program goes rogue – Pt. 4," 18 February 2015
"Tomsheck's "July Amnesty": CBP IA loses hundreds of cases alleging criminal activity by CBP Employees — Pt. 3," 12 January 2015
"James F. Tomscheck forced disabled veteran from CBP IA – Pt. 2," 24 November 2014
"Vet alleges supervisors at CBP IA ignored his disability: 'He Just needed an ounce of compassion' — Pt. 1," 28 October 2014
—————————————————————————————————————-
At the same time, Richardson's spirits seem high and his attitude remains positive because he says he is determined to resolve his four-year dispute with Customs and Border Protection Internal Affairs (CBP IA). While covering a number of issues, this dispute centers on Richardson's allegation in 2012 that, "…I have been effectively denied accommodations for my documented disabilities and subjected to harassment by my leadership, including my Assistant Commissioner" (Maltreatment of a Wounded Warrior/CBP Employee and Veterans Day, p.1, Internal memo from Franklin C Jones, EEOC Executive Director, to James F. Tomsheck, CBP IA Assistant Commissioner, 10/23/2012).