Biolabs

How safe is Kansas bio lab from twisters?

DHS officials say they are confident that the proposed bio-defense lab in Manhattan, Kansas, located in the heart of tornado alley, is capable of withstanding a direct hit from a powerful twister; engineers have hardened the $650 million National Bio and Agro-Defense Facility (NBAF) to withstand wind speeds of up to 230 miles per hour; but critics of the planned facility argue that the new standards are inadequate and that the facility must be further reinforced to ensure that in the event of a natural disaster the deadly pathogens and viruses stored there are not spread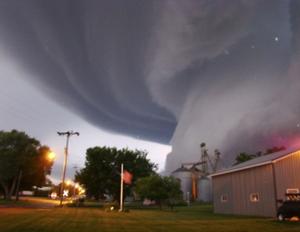 Giant tornadoes are an ever-present threat in Kansas // Source: bulvaros.hu
DHS officials say they are confident that the proposed bio-defense lab in Manhattan, Kansas, located in the heart of tornado alley, is capable of withstanding a direct hit from a powerful twister, but critics argue that the facility is still not secure enough.
According to Chris Ortman, a spokesman for DHS, engineers have hardened the $650 million National Bio and Agro-Defense Facility (NBAF) to withstand wind speeds of up to 230 miles per hour. Ortman said that the standards for the facility match current requirements that the Nuclear Regulatory Commission (NRC) has outlined for nuclear facilities located in areas vulnerable to tornadoes.
Despite these assurances, critics of the planned facility argue that the new standards are still inadequate and that the facility must be further reinforced to ensure that in the event of a natural disaster the deadly pathogens and viruses stored there are not spread.
Tom Manney, a retired Kansas State University professor and a member of No NBAF a Kansas group against the proposed facility, said, "I'm not a meteorologist or an engineer, but I don't think DHS has established that it would be safe."
Bill Bullard, the director R-CALF, a lobbyist organization for cattle ranchers, shared Manney's concerns stating, that "the U.S. government has simply ignored the vagaries of weather which could well cause an inadvertent release of some very dangerous viruses."
Last year a government study found that it would cost the cattle industry more than $5 billion dollars if a tornado struck the bio facility and released the foot-and-mouth virus.
But proponents of the bio lab continue to claim that the lab is safe from tornados thanks to recent design upgrades like reinforced concrete and tornado dampers.
Sherriene Jones-Sontag, a spokeswoman for Kansas Governor Sam Brownback, a strong supporter of the facility, said, "The research work will be done in a containment facility that amounts to a shell within a shell within a shell."
A study conducted last year found that the chances of a tornado striking the lab were remote. It concluded that a smaller tornado with wind speeds of 150 miles per hour would hit the facility and release viruses only once every 770 years.
But that same study also found that the building's initial design contained several building flaws and that the lab could fail in wind speeds of 90 miles per hour or more.
The massive tornado that recently leveled Joplin, Missouri had estimated wind speeds of more than 200 miles per hour.
Furthermore, in comparison, the Wolf Creek nuclear power plant near Burlington, Kentucky was built to withstand wind speeds of up to 360 miles per hour and rotational wind speeds of 290 miles per hour based on an older NRC standard.
The study recommended that additional measures be implemented to protect the facility against tornadoes.
"Hardening is a tangible risk reduction feature," it said.
After the study's release, DHS agreed to improve the design in February 2011, but some critics are insisting that DHS do more to protect against tornadoes.
"It sounds to me like they [DHS] are a little low on their wind speeds," said John T. Snow, dean of the College of Atmospheric and Geographic Sciences at the University of Oklahoma.
But Snow admitted that he was not aware of what additional protection measures officials may have recently built into the facility.
If Congress approves funding, construction on the new bio lab could begin as early as next year. Approximately $40 million has already been spent on initial work and the Obama Administration has requested an additional $150 million for it in the 2012 budget.
DHS officials are building the Kansas bio lab to replace an aging lab off the coast of New York's Long Island.
The lab is scheduled to open in 2018 and scientists will conduct research on potential diseases and toxins that could endanger the nation's food supply.