India to build a hunter-killer UAV fleet; UAVs will come from Israel
India is set to augment its fleet of reconnaissance UAVs with killer-hunter UAVs; the Indian military has been impressed with the effectiveness of the UAV campaign against al Qaeda and the Taliban in Afghanistan and Pakistan, and wants to adopt the same approach to India's problem with Muslim terrorists; Israel, which sold India the intelligence-gathering drones, will be the source of the attack UAVs as well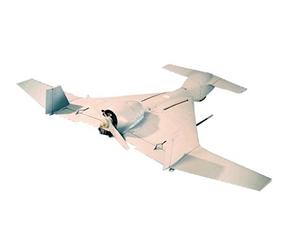 The Harop: Israeli hunter-killer drone // Source: knol.google.com
A considerable, if unnoticed, addition to the much discussed acquisition of big conventional weapons by India, is the silent build-up of the country's fleet of reconnaissance and "killer" unmanned aerial vehicles (UAVs), specifically aimed at neutralizing threats from Pakistan, and possibly China in the future.
Official sources have told Asia Times Online that if everything goes as planned, within the next two years India should possess a fleet of at least 25-30 attack UAVs compared to fewer than five now with such capabilities. Until now, India has never admitted to using the killer UAVs.
Asia Times's Siddharth Srivastava writes that reports suggest that some surveillance UAVs may be deployed in Maoist-infested areas, following the deadly attack on Tuesday on paramilitary forces in Chhattisgarh that killed 75 security personnel.
The sources say that the moves to acquire attack UAVs gained momentum after the Mumbai terror attacks in November 2008, with Indian defense commanders pressing for their procurement as they have been used by American in the Afghanistan-Pakistan campaign to good effect.
Srivastava writes that India has been procuring unmanned drones since the India-Pakistan Kargil conflict in 1999, having inducted more than 100 UAVs in the decade that followed. These UAVs, though, were mainly used for detecting incoming missile attacks or border incursions.
The ongoing contracts for the Indian Army, Navy and Air Force comprise mainly Israeli eye-in-the-sky drones for spying on the enemy. These have mainly included the unarmed Heron and a few Harpy killer drones that function like cruise missiles.
This is set to change. Sources told Asia Times Online that Israeli arms suppliers have been briefed by New Delhi that future UAV fleets to India should comprise a "bigger dose" of attack UAVs. In keeping with new threats, the Indian Air Force (IAF) is looking to induct the Israeli Harop killer UAVs from 2011 onwards that resemble the Harpy attack drones. Other parts of the armed forces are likely to follow.
Integration issues are not expected to be severe as the UAV technology is considered relatively simple and does not require complementary hardware installations. The Indian defense forces already have dedicated satellite links and channels that can be used by the attack UAVs.
Srivastava notes that there is a possibility that India may pitch for American UAV versions given the deepening defense relations between the two countries, though Washington's decision will be weighed by Pakistani reactions, which will not be positive. Israel poses no such strategic