Disasters

Joplin recovers quickly, schools open on time

In a show of resiliency and determination, schools in Joplin, Missouri opened on time last week less than ninety days after a devastating tornado leveled much of the town; the tornado's 200 mile per hour winds tore through Joplin killing 160 people, destroying thousands of homes, and damaging ten schools while completely destroying four others, yet despite the destruction more than 90 percent of Joplin's students returned to school on time as promised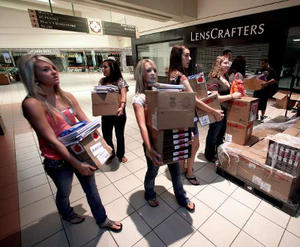 Joplin students assemble donated school supplies // Source: northjersey.com
In a show of resiliency and determination, schools in Joplin, Missouri opened on time last week less than ninety days after a devastating tornado leveled much of the town.
The tornado's 200 mile per hour winds tore through Joplin killing 160 people, destroying thousands of homes, and damaging ten schools while completely destroying four others, yet despite the destruction more than 90 percent of Joplin's students returned to school on time as promised.
In the immediate aftermath of the twister, C.J. Huff, Joplin's school superintendent, pledged that the school year would begin on time and administrators buckled down laying out a strategy to recover and rebuild. Several schools were destroyed while others were badly damaged including the district's administration building, forcing school officials to take stock of their resources and come up with alternative locations.
Shortly after the disaster, Huff said, "We're trying to take inventory of our assets and determine what it is we have to even use as a school. From that, we will start building a facilities plan, and what structures to focus on first to get them operational and ready to move into this fall. We have a deadline, and we're looking to make it happen."
Huff worked with structural engineers to find other potential venues including a vacant store at a mall to replace Joplin High School, which was destroyed. The mall space had more than 90,000 square feet available and administrators immediately set to work transforming it.
Once the plans were hatched, Missouri governor Jay Nixon toured the space and thought it was a great solution. To assist the school district, the state government along with the Federal Emergency Management Agency contributed $30 million to the district's recovery and rebuilding efforts.
"In just a few short weeks, the former retail outlet will become a school," he said.
Kerry Sachetta, the principle of Joplin High School, said the new space "won't be like a typical school with a hallway and classrooms on each side. We're probably going to be able to open up classrooms a little more and do more team teaching than we have in the past. Hopefully that will spur some different innovations and teachers working across disciplines."
Joplin High School will take at least three years to rebuild, but as a commitment to the recovery, the high school changed its sign to read Hope High School.
On the first day of school last week, Huff said, "We got a lot of people with a lot of heart that, after the storm, instead of crawling in a hole and saying, 'Come help me,' they put on their work boots and gloves and started clearing debris and saving lives. And everybody has worked really hard to make it all come together."