Wireless snooping

Michigan cell snooping furor

The furor over Apple surreptitiously planting tracking software in users' iPhones and iPads comes on the heels of reports that police in Michigan were using a portable device capable of scanning and downloading cell phone contents in a very short time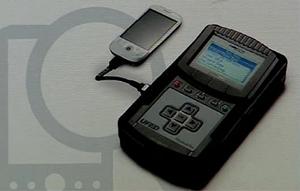 CelleBrite's UFED as used by the Michigan State Police // Source: dvorak.org
The Universal Forensic Extraction Device (UFED), designed and manufactured by CelleBrite, is able to download video, images, text messages, and contact lists from over 3,000 cell phone models. It is even capable of extracting deleted text messages, and ostensibly, other deleted files as well. The data can be extracted in two minutes or less.
The Detroit Free Press reports that the Michigan State Police have had the devices since 2006. They are priced at around $3,000 dollars each.
The American Civil Liberties Union of Michigan has been wrestling with the MSP for the last three years for information about the UFED, and has expressed concern about its use, citing right-of-privacy concerns.
The State Police have emphasized that the hand-held devices are only used in conjunction with a search warrant, or with the expressed permission of the cell phone's owner. The MSP maintains that the devices are not used during routine traffic stops, and in fact, are only used by specialized criminal investigation teams.
The ACLU's initial request under the Freedom of Information Act (FOIA) was met with a bill from the State Police for $500,000, and the two sides have been in discussion to narrow the focus of the FOIA request with an eye toward reducing the cost.
The designer-manufacturer, CelleBrite is headquartered in Israel, with U.S. offices in Glen Rock, New Jersey as well as offices in Paderborn, Germany and Shanghai, China.
Besides the UFED, the company produces data extraction devices for mobile communications retailers that allows the transfer of data from old to new cell phones.
According to the corporate Web site, they number among their customers Verizon Wireless, Sprint, T-Mobile, Apple, Turkcell, Telcell, US Cellular, Metro PCS, Cricket, Telstra, and others totaling more than 140 of the world's major mobile networks.