Norway bans testing of Israel-bound submarines
Israel is buying additional submarines for two purposes: first, move some of its nuclear second-strike capabilities to sea in order to enhance its deterrence posture; second, have more cruise missile-carrying submarines available to position off the Iranian coast for possible attack on Iran's nuclear weapons facilities; Norway, which is critical of Israel's occupation of Palestinian territories, has informed the German builder of the Israel-bound submarines that Norway will no longer allow deep-water testing of these submarines in the Norwegian submarine base the German company had leased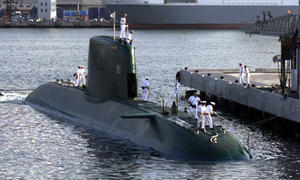 Docking of a German-built Israeli submarine // Source: thomaspmbarnett.com
Israel is a small country (the size of New Jersey), and it has to contend with two strategic realities: first, it has a small number of military airfields and a small number of missile fields. This means that Syria and, to a lesser extent Hezbollah, could shower these launch areas with missiles and rockets, in the process not only making life difficult for the Israel Air Force — but possibly degrading Israel's nuclear second-strike capability. The second reality is that the main threat to Israel, Iran, is far away, complicating any military effort to destroy Iran's emerging nuclear weapons capabilities.
The solution to both problems: submarines. Submarines would allow Israel to transfer some of its second-strike capabilities off shore, thus enhancing deterrence, and would also allow Israel to equip the vessels with cruise missiles and send them to loiter off the shores of Iran, making an attack on Iran's nuclear facilities easier (note that Israel already has three cruise-missile carrying subs, and at least one of them is always stationed in the Indian ocean off the Iranian shore).
This is why the decision by Norway to disallow a German submarine builder from testing submarines scheduled for delivery to Israel in the waters off Norway would be disconcerting to Israel.
Haaretz reports that Oslo decision means German shipbuilder HDW will have to carry out deep-water testing of Israeli vessels elsewhere.
Anshel Pfeffer reports that Israel-bound submarines will no longer be allowed to undergo tests in Norwegian territory, as part of the country's ban on security exports to Israel, Norway has informed a German shipbuilder.
In early 2011 the Israeli Navy is due to receive one improved Dolphin submarine built by Howaldtswerke-Deutsche Werft (HDW ), a German shipbuilding company based in Kiel. It is scheduled to receive another one in 2012.
HDW leases a Norwegian submarine base to test its new submarines. The first new Dolphin submarine has begun water trials, supervised by an Israeli team in Germany.
Following Oslo's decision, the German shipbuilder will have to carry out its deep-water testing at another site.
The Israeli Navy's Squadron 7 has been using three Dolphin submarines for the past decade. The two new submarines are costing about €1.3 billion, according to German media reports, and Germany is funding a third of that.
The Navy is expanding its submarine capabilities and doubling the number of operational crews, enabling them to undertake long-range missions far from their home port.
Israel and Germany recently discussed building a third submarine, Defense News reported.
The new submarines have an advanced propulsion system that enables them to stay submerged for up to three weeks. In addition to their combat and intelligence gathering missions, Dolphin submarines are equipped with nuclear-head cruise missiles, according to foreign media reports.
Pfeffer notes that four months ago a Dolphin submarine passed southward via the Suez Canal in what was seen as an Israeli move to position a submarine in Persian Gulf waters.
HDW shipyards, one of the largest in the world, leases from the Norwegian government the Marvika submarine base on Norway's southern shore as a base for testing new submarines. During the Second World War this port served as a base for the German fleet's submarines.
The port serves as a departure point for deep-water experiments of up to 700 meters, and Israel's first three Dolphin submarines were tested here.
Such experiments are necessary to locate structural weaknesses in the submarines' system, and are part of every new submarine's trial process.
Norway's foreign ministry advised HDW several weeks ago that it will no longer allow it to use its territory for naval experiments on submarines intended for the Israeli navy. This is not Norway's first security boycott on Israel. A year ago the Norwegian State Pension Fund announced it was dropping Elbit Systems due to the manufacturer's involvement in building the West Bank separation fence.
The Norwegian treasury said the fence was infringing on Palestinians' human rights.
Norway's foreign ministry commented that it does not respond to specific decisions regarding the export of military equipment and services. When asked about these developments on Norwegian television last week, Norwegian foreign minister Jonas Gahr Store said, "We have extremely rigorous restrictions on exporting security goods and services … we don't export materials or services to states at war or in which there is a danger of war."
He did not mention Israel directly.