Persistent surveillance

NYU prof surgically installs camera to the back of his head

Published 7 December 2010

NYU professor surgically implanted a camera to the back of his head; to protect his students' privacy, the professor will attach a lens cap to the camera when he is on the NYU campus; nothing else is off limits — he will wear it to bed, for instance, and it is waterproof, so it even goes in the shower; the purpose of the project is to comment on the "inaccessibility of time and the inability to capture memory and experience"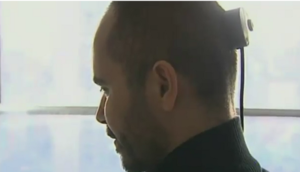 Wafaa Bilal with his camera installed // Source: thisis50.com
One thing you can say for Wafaa Bilal, the New York University professor who planned to implant a camera in his head: he will never have to look over his shoulder again. The reason: he has finally done (implanted a camera in his head, that is).
About a week ago, Bilal had a tattoo artist implant a titanium disc on the back of his head, so he can magnetically attach a small surveillance camera. He even set the whole procedure to music. Rebecca Boyle writes that once the soreness subsides, Bilal will wear his camera for a year as it snaps photos at one-minute intervals. The images will be beamed live to the Mathaf: Arab Museum of Modern Art in Qatar as part of a project called "The 3rd I."
He acknowledges he will get a lot of mundane shots — in the YouTube clip, you can see his shower curtain and a bottle of what looks to be olive oil — but this is part of the point, to comment on the "inaccessibility of time and the inability to capture memory and experience."
Bilal, an Iraqi who fled his country under Saddam Hussein, is known for provocative art installations — earlier this year, he received 105,000 tattoos to commemorate those killed in the Iraq war, for instance. During the project, called "And Counting," the names of Iraqi cities were tattooed on his back, along with 5,000 red dots to represent the American military personnel killed in Iraq and 100,000 dots in invisible ink, representing the official death toll for Iraqis. The whole procedure was streamed live.
To protect his students' privacy, Bilal will attach a lens cap to the camera when he is on the
NYU
campus. Nothing else is off limits — he will wear it to bed, for instance, and it is waterproof, so it even goes in the shower. Find out more on his
Web site
.