In the trenches

Securing smartphones in battle

Published 13 October 2011

As the military moves to incorporate smartphones on the battlefield, critics worry that the inherent security flaws in the devices could result in major data breaches or cybersecurity attacks on the military's networks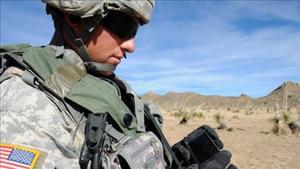 Military smartphones face the same vulnerabilities as civilian // Source: techandcomputers.com
As the military moves to incorporate smartphones on the battlefield, critics worrythat the inherent security flaws in the devices could result in major data breaches or cybersecurity attacks on the military's networks.
"The military is opening themselves up to serious problems," said Chris Soghoian, a privacy and security researcher at the Center for Applied Cybersecurity Research at Indiana University. "It seems stupid to use a platform that thousands of people are trying to hack."
"It's a recipe for disaster," he added.
As evidence, Soghoian pointed to the potential for enemies to precisely track the movements of troops through a smartphone's GPS transmitter or steal sensitive military information stored on the phones.
McAfee Inc., an internet security firm, recently concluded that malicious software aimed at smartphones and tablets is on the rise. Furthermore, with the increasing ubiquity of the devices, hackers are likely to target them with increasing frequency.
"Given our historically fragile cellular infrastructure and slow strides toward encryption, user and corporate data may face serious risks," McAfee said.
Nearly every branch of the military is exploring how to integrate smartphones, despite the security risks, and defense companies are leaping at the opportunity to provide applications and cybersecurity measures.
Symantec Corp., a cybersecurity firm aimed at protecting personal computers, is currently working on "O3," a product aimed at securing wireless military networks.
Meanwhile, defense giant Raytheon is working with the military to develop smartphone apps that troops can use in battle. This year, the company plans on unveiling its online application store, dubbed Appsmart, where its military apps will be available.
So far the company has developed the Raytheon Advanced Tactical System, a software program that allows troops to share sensitive data on their smartphones, along with more than twenty other apps.
"We think that within three years there will be a major move in the military toward fielding mobile handsets," said Mark A. Bigham, Raytheon's vice president of business development for defense and civil mission solutions. "We hope Appsmart will play an important role in that initiative."
According to Bigham, apps will sell for $500 each as far fewer are made than commercial apps which generally sell for a few dollars and have millions of purchasers.
Bigham anticipates that military app market will be highly competitive. "There's a lot of companies large and small vying for this marketplace," he said.
If the military does move to incorporate smartphones downrange, the potential market and revenue opportunities would be enormous. The Army alone would have to purchase 1.2 million smartphones if it proceeds with plans to equip every soldier with a handheld device.
� dtP 0�V additional, sensitive data about the target subject, starting merely from one anonymous piece of information about her: the face."