"See Something, Say Something" campaign hits Seattle ferry system
Last week, a senior DHS official examined security measures at the nation's largest ferry system; Betsy Markey, DHS's assistant secretary of intergovernmental affairs, rode aboard a ferry last Thursday in Seattle as it sailed from Colman Dock to Bainbridge Island; Markey's visit comes as a part of a broader DHS push to promote its "If You See Something, Say Something" public awareness campaign; the campaign will be implemented in conjunction with the Washington State Ferries (WSF) system; WSF is the largest and most complex ferry system in the United States with its twenty terminals and nine routes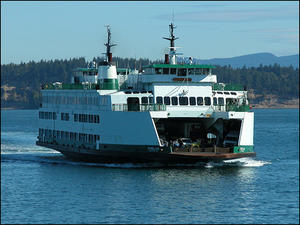 Seattle encourages "see something, sy something" // Source: komonews.com
Last week, a senior DHS official examined security measures at the nation's largest ferry system.
Betsy Markey, DHS's assistant secretary of intergovernmental affairs, rode aboard a ferry last Thursday in Seattle as it sailed from Colman Dock to Bainbridge Island.
Markey's visit comes as a part of a broader DHS push to promote its "If You See Something, Say Something" public awareness campaign.
The campaign will be implemented in conjunction with the Washington State Ferries (WSF) system. Posters will be prominently featured at all WSF stations and on all ferries.
Markey was joined by Washington State Department of Transportation assistant secretary David Moseley, who said, "I'm excited that we're the first ferry system in the nation to be partnering with the Department of Homeland Security on their 'If You See Something, Say Something' campaign."
He added, "The ferry system carries more than 22 million riders each year and the safety of our customers and crews is our highest priority."
WSF is the largest and most complex ferry system in the United States with its twenty terminals and nine routes.
Assisting police teams is a network of 900 security cameras that are fed into a central command center.
"We have a lot of rules written into the system," WSF security expert Jim Hasselbachexplained. "If something is going different than what we'd like to see, it takes a picture."
Over the past year, DHS has worked with federal, state, and local governments as well as the private sector to roll out the "If You See Something, Say Something" campaign and the Nationwide Suspicious Activity Reporting (SAR) Initiative.
So far partnerships have included major sporting events by the National Basketball Association, private companies like Wal-Mart, and public transportation systems like Washington D.C.'s Metropolitan Area Transit Authority.