Mobile surveillance

SkyWatch: surveillance as effective deterrence

Published 10 February 2011

ICx's SkyWatch mobile surveillance tower help police and businesses keep an eye on crowded areas and public events, helping in deterring car theft and burglary, assault, disturbances, and robbery; ICx points out that the SkyWatch tower is designed with darkened windows so those below cannot tell if an officer is present — so whether or not the police have the ability to man it, the deterrence still works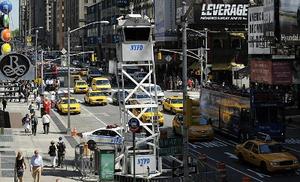 Skywatch mobile tower deployed in New York City // Source: lossofprivacy.com
The challenge of preventing car theft and burglary, assault, disturbances, and robbery in crowded areas and public events presents a challenge to security authorities who do not have an appropriate vantage point. SkyWatch, a mobile surveillance tower manufactured by ICx, a developer of advanced detection, surveillance, and intelligence technologies, has demonstrated the ability to deter potential offenders with its imposing structure and surveillance capabilities. The use of watchtowers in Walmart parking lots across the United States, however, have also prompted the concern of patrons who believe the towers to presage of a police-state.
Homeland Security NewsWire spoke with Melissa Woods, director of public relations at ICx, which was purchased last year by Flir, a major provider of thermal imaging infrared cameras ("Flir to acquire sensor maker ICx for $274 million" 18 August 2010 HSNW). One of the first clarifications Woods made was that ICx never sold any SkyWatch system directly to Walmart before. "They are owned by the local police departments and sheriff's offices and are moved around based on wherever they see the need for them." ICx has found that the towers have been used quite often by large shopping outlets around the holidays, such as on Black Friday.
In a study that assessed the impact of the SkyWatch system, the Loss Prevention Research Council (LPRC) interviewed twelve SkyWatch users, of which eight were police law enforcement, three were transit law enforcement, and one campus police department. The statistics gathered by the council showed a significant reduction in car break-ins, theft, shoplifting, and assault, along with the approval ratings of its users.
Part of the tower's success comes from its implied surveillance. "Its presence alone cuts down on crime," said Woods. "The SkyWatch tower is designed with darkened windows so those below cannot tell if an officer is present — so whether or not the police have the ability to man it, the deterrence still works." The tower uses a hydraulic lift to raise the cab into the air and features a fail-safe mechanism that ensures its user will not be marooned.
A user list provided by ICx shows that sixty police offices across the country are currently using the SkyWatch system, twenty-six of which belong to offices in Texas. Sixteen sheriff's offices are using the device as well. Asides from force protection users such as the U.S. Air Force, Army, Marine Corp., and Navy, the watchtowers have been employed by various airports, correctional facilities, ports, amusement parks, colleges, and commercial businesses such as Home Depot, and Fed Ex.
SkyWatch was used by the Arlington, Texas police department at this year's Super Bowl XLV. Dallas Fort Worth International Airport also purchased one to monitor the influx of fans flying in for the game.