Aviation security

Third lawsuit filed over TSA airport screening

Published 1 December 2010

A Colorado attorney has asked a federal judge to order the Transportation Security Administration (TSA) to abandon its airport screening procedures for U.S. citizens; the suit claims that the patdowns the plaintiff, his two daughters, ages 9 and 15, and a family friend were subjected to in San Diego were "disgusting, unconscionable, sexual in nature" and in violation of the Constitution's protections against unreasonable searches; nationally, at least two other lawsuits have been filed over the TSA's new procedures; public opinion appears to be shifting against TSA's "enhanced patdowns," even as support for full-body scanning appears to remains high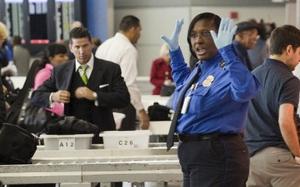 TSA agent during passenger screening // Source: radio.com
A Colorado attorney has asked a federal judge to order the Transportation Security Administration (TSA) to abandon its airport screening procedures for U.S. citizens.
Gary Fielder filed his lawsuit in U.S. District Court in Denver last week, more than a month after he, his two daughters, ages 9 and 15, and a family friend underwent a TSA patdown in San Diego. CBS4denver reports that Fielder's lawsuit claimed the patdowns were "disgusting, unconscionable, sexual in nature" and in violation of the Constitution's protections against unreasonable searches.
He said subjecting U.S. citizens to the new procedures is wrong because no American has been accused of threatening commercial airliners with explosives.
Nationally, at least two other lawsuits have been filed over the TSA's new procedures.
"I'm not asking for any money. I just want to walk to a plane without being touched," Fielder said Tuesday. "They're probably thinking that next time, I'll just submit to the scanner. No, I won't go through that. I'm not going to be photographed nude."
TSA officials last month began phasing in full-body scanners at airports, ahead of the busy holiday travel season. Those who opt out of the scanners, which some travelers oppose over concerns of radiation and graphic images, undergo new patdown procedures that include more of a hand-sliding motion.
In a statement, TSA officials declined to comment on Fielder's lawsuit, citing pending litigation. The lawsuit named DHS secretary Janet Naplitano, TSA administrator John Pistole, and the TSA.
"The terrorist's job is to terrorize the people, to interfere with freedom in such a way that disrupts ordinary life and commerce," Fielder wrote in his complaint. "With due respect, it is clear that the above referenced governmental agencies are aiding the terrorists' objective."
The Electronic Privacy Information Center (EPIC) has also filed a lawsuit that challenges the constitutionality of the advanced imaging body scanners and pat-downs currently used by the TSA. EPIC's suit, too, maintains that these measure violate the Fourth Amendment, which prohibits unreasonable searches and seizures.
Howard Portnoy notes that while the courts are likely to give greater latitude to the federal government in matters where national security is at stake, in 2006 then-Judge Samuel Alito delivered an opinion on behalf of the U.S. Court of Appeals for the 3rd Circuit that established the terms "minimally intrusive" and "effective" as constitutional benchmarks for airport security measures. Alito supported the two-step procedure of screening passengers with walk-through magnetometers and, in the event they set off an alarm, with hand-held wands, adding that the TSA could proceed to a putative step 3 "in invasiveness only after a lower level of screening disclose[s] a reason to conduct a more probing search."
A year later, the U.S. Court of Appeals for the 9th Circuit refined the language, maintaining that
a particular airport security screening search is constitutionally reasonable provided that it "is no more extensive nor intensive than necessary, in the light of current technology, to detect the presence of weapons or explosives."
Portnoy says that an argument could be made that current TSA practices fail the smell test imposed by both lower courts.
One particular potential stumbling block to upholding the constitutionality of the full-body scanners is the machines' capacity, in their present state, to store "naked" images of passengers. As was discovered when EPIC initially filed its lawsuit earlier this year, the U.S. Marshals Service had saved more than 35,000 images from airport body scanners on a computer in an Orlando courthouse. If the court rules that machines can not be considered "minimally intrusive" when they are capable of storing images, the TSA lawyers will have their work cut out for them.
It appears that public opinion is shifting away from support for the TSA's current tactics, although different polls offer different numbers on the issue. A poll released by Zogby International last Tuesday found that 61 percent of Americans were opposed the use of full body scans and TSA pat downs. That number, however, was significantly higher than a Washington Post-ABC News poll, conducted a few days earlier. That poll found that "Nearly two-thirds of Americans support the new full-body security-screening machines at the country's airports, as most say they put higher priority on combating terrorism than protecting personal privacy." Even the Washington Post-ABC news poll, however, found that "half of all those polled say enhanced pat-down searches go too far."