University of Missouri upgrades access control system to provide enhanced security, emergency management
Published 18 February 2010
The University of Missouri has upgraded access control and security software in its Residential Life Buildings complex — twenty-four on-campus buildings where 6.700 students live; the security system — Matrix System's Frontier — offers many features which campuses and other public facitilites will find useful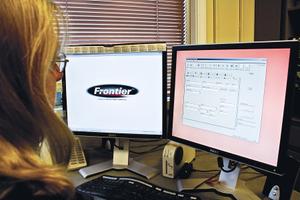 Matrix System's Frontier workstation // Source: Matrix Systems
The University of Missouri's (Mizzou) Residential Life Buildings complex recently upgraded its access control and security software, and the university says the building now offers a model for campus security, combining state-of-the-art technology, user-friendliness, and the cost-cutting ability to be installed and maintained in-house.
The university says the new system now provides more than 6,700 students living in 24 on-campus Residential Life buildings with a higher level of security level than most campuses, without compromising convenience.
In an emergency, just a few mouse clicks at the access control workstation can completely secure a building within seconds to prevent outsiders from entering. More and more universities are seeing the value of this functionality in the wake of recent incidents at Virginia Tech University and Northern Illinois University.
Federal buildings also take advantage of such technology. When a police chase and outdoor shooting incident occurred a few hundred yards from Capitol Hill during the congressional confirmation hearings for Supreme Court Judge Sonia Sotomayor, the Capitol s security system briefly secured the Capitol Building in Washington, D.C.
Mizzou's Residential Life buildings access control system has streamlined residence hall security, according to Tammy Old, an administrative assistant who oversees the Residential Life buildings access control with a Matrix Systems Frontier-equipped computer workstation.
Matrix Systems equipment has secured the exterior doors of the Residential Life buildings since 1991. Now recent software upgrades have increased compatibility and user-friendliness, says Old. For example, when the housing director s office sends Old new student names, ID numbers, and residence hall assignments, she can easily download the information into the access control software without compatibility issues.
Matrix Systems has also improved the access control system s student purge/restoration procedure. Unlike non-academic businesses that purge just a handful of names periodically, Mizzou must purge and restore students every semester to accommodate frequent student living quarter changes. Rita Houg, Mizzou s assistant director of conferences and building services, asked Matrix Systems to customize its purge function for quicker expedition.
Matrix responded, making the process several times faster and offering this option to all of Matrix's university accounts. Houg said she admires Matrix Systems' customer service, and that she frequently sees her requested customizations appear in subsequent Frontier software releases.
Frontier s increased user-friendliness of special events security. Within minutes, Old can reschedule exterior doors to remain locked but accessible with ID cards during special events such as spring break or Saturday football games.
Access rejection is