U.S.: hundreds of levees no longer safe -- property owners to pay flood insurance
Published 13 September 2010
To keep a levee accredited, local governments or other responsible parties must certify that it can handle a flood so severe that it has a 1 percent chance of occurring each year; FEMA has revoked its accreditation of hundreds of levees nationwide, concluding that they no longer meet its standards that ensure protection during major floods, a decision that forces thousands of property owners to buy federal flood insurance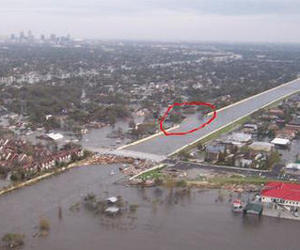 Levee failure in New Orleans // Source: media-criticism.com
The U.S. federal government has determined that hundreds of levees nationwide no longer meet its standards that ensure protection during major floods, a decision that forces thousands of property owners to buy federal flood insurance.
The Federal Emergency Management Agency (FEMA) has revoked its accreditation of the levees as part of an effort to update the government's flood hazard maps, which guide state, local, and federal decisions on development in flood-prone areas. USA Today's Peter Eisler writes that properties protected by the levees now are in flood hazard zones, which mean owners who have federally backed mortgages are required by banking laws to carry flood insurance. Flood insurance, based on property value and risk, ranges from less than $200 to more than $1,000 a year. National average: $500.
FEMA has not accredited 300 levees, mostly in California and Arizona, on the maps it has updated so far. Those maps, most of which have taken effect since 2008, cover 65 percent of the U.S. population. Maps for the rest of the country are due to be finished over the next three years (but see "Cities say new FEMA flood maps contain many errors," 27 January 2010 HSNW).
"There's a lot of real money and real consequences to this," said Rob Vining, adviser to Congress' National Committee on Levee Safety and former chief of civil works programs for the Army Corps of Engineers. Some of the suspect levees protect prime commercial and residential real estate, said Vining, a vice president of HNTB, a firm that helps cities manage infrastructure projects.
"If you require flood insurance for all that property, you get a very big price tag," he said.
Eisler notes that to keep a levee accredited, local governments or other responsible parties must certify that it can handle a flood so severe that it has a 1 percent chance of occurring each year. Some communities where levees have deteriorated face tens of millions of dollars in rehabilitation to meet that standard.
There has been no net gain in the number of properties in flood zones, because other properties have been removed as protections have been built or conditions have changed, FEMA says. "Flood hazards are constantly changing due to natural as well as man-made factors," spokesman Brad Carroll said.
In Sacramento, levees protecting about 20,000 properties in the city's fast-growing Notomos area were deemed insufficient when new FEMA maps took effect at the start of last year. "There was a big outcry," said Dave Brent, the city's engineering manager. To build in the newly designated flood zone, structures must be elevated as much as 20 feet to remain above the flood plain, he says. "It was a new growth area for us, and development has been pretty much shut down."
In Woonsocket, Rhode Island, levees that lost their accreditation on maps issued in March 2009 put nearly 1,500 properties into flood zones. "I've heard from people complaining about the (insurance) charges," said local Realtor Kate Duggan of Essex Properties. "But no one's saying they want to sell their house because of it."
The map updates are mandated by Congress so banks can be sure that people who need flood insurance are required to buy it. Lawmakers from areas where property is being added to flood zones are pushing a bill to give communities more time to improve flood protections and grant property owners a five-year grace period to buy insurance.
"Local jurisdictions need time to address the impact … and the costs for individuals," said Rep. Jerry Costello (D-Illinois).