Chem-bio warfare

U.S. urged to update chem-bio defense efforts

Published 31 January 2011

A new report highlights one of the major problems in preparing defenses against chemical and biological (CB) agents: "Given the inherent secrecy with which states and other actors will conduct CB agent development, adversary programs could acquire new CB agents years before U.S. defense planners recognize those agents—- And, after the U.S. intelligence community recognizes those CB agents as threats, the United States will probably need many more years to establish a comprehensive defense against them. Such gaps in CB agent defense capabilities pose a potentially serious risk to U.S. military operations"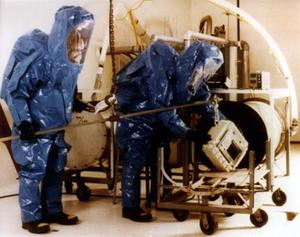 The chem-bio threat presents multi-layered challenge // Source: cubrc.org
The U.S. Defense Department should revamp its chemical- and biological-weapon defense efforts in a bid to discourage antagonists from developing new lethal agents or employing such materials in a devastating attack, according to a newly published RAND Corp. report.
Global Security Newswire quotes the report to say that, "Given the inherent secrecy with which states and other actors will conduct CB agent development, adversary programs could acquire new CB agents years before U.S. defense planners recognize those agents…. And, after the U.S. intelligence community recognizes those CB agents as threats, the United States will probably need many more years to establish a comprehensive defense against them. Such gaps in CB agent defense capabilities pose a potentially serious risk to U.S. military operations."
There are a number of "key challenges" in dealing with biological and chemical threats, the report states: identifying creation of new weapons materials, comprehending those dangers, the years or even decades needed for countermeasure development, and the "extended time periods" required for deploying those systems.
Mustard agent existed for decades before scientists understood its harmful genetic effects, and U.S. medical preparations for a soman attack are unfinished more than a half a century after the nerve agent's potential became known, the document notes.
Physical countermeasures including protective suits and breathing apparatus could in many cases offer "some level of defense" against a wide range of agents, the report states. "But what of new agents developed specifically to exploit limitations in the existing CB defenses? What if detection is the trigger for donning protective gear, and U.S. detectors are incapable of sensing new categories of agents? These concerns pose real challenges for a program that delays the development of an operational defense strategy until potential CB threat agents are validated and well characterized."
Improving U.S. military and allied preparations for chemical or biological strike would necessitate "broadening and adjusting" Pentagon Chemical and Biological Defense Program policies for obtaining new equipment, the report later adds.
Various international developments have increased the probability of governments or other organizations developing new chemical or biological warfare capabilities, it says.
The Chemical Weapons Convention forbids the stockpiling of known chemical-weapon agents and their constituent materials, but "some actors might try to avoid short-term treaty censure by pursuing agents and precursors not explicitly identified by the CWC and take similar action with biological weapons," says the analysis. "The adverse economic and political repercussions of developing new CB agents will likely compel actors to conduct their CB programs covertly, posing a range of problems for the international community," it adds.
Scientific capabilities around the world are "accelerating" and "dual-use" manufacturing sectors have proliferated, raising additional concerns about the increasing availability of weapon-usable material and expertise, says the document. A number of "small yet technically competent nations" might consider a chemical or biological deterrent a potential asset, and recent high-profile incidents such as the 2001 anthrax mailings have shown that such agents can serve as "weapons of intimidation," it adds.
"Potential proliferators are aware that the use of [chemical-weapon] agents in the past (for example, Italy in the 1930s and Iraq in the 1980s) did not result in the kind of swift punishment that supports deterrence," the report's authors wrote.
"In the coming decades, these factors will likely increase the probability that the United States will face 'unknown' CB agent threats and CB agent threats against which existing CB defenses are inadequate even for U.S. military personnel," they said.
The "best approach" to the threat would involve dissuading enemies from preparing new biological or chemical weapons systems, broadly deterring the use of such materials, and pursuing "immediate deterrence of specific adversary CB attacks and the ability to defeat such attacks," according to RAND.
Components of this strategy would include "proactive CB defensive [science and technology], vigorous and well-funded defensive system development, and strategic communications"; a "convincing information offensive" that would persuade foes that the United States and its allies are prepared to deal with any biological or chemical threat; and an expanded and updated Chemical and Biological Defense Program purchase emphasis.
"Successful initiatives in dissuasion and deterrence will depend on CB defensive programs that appear dynamic, progressive, and integrated with other Defense Department and national-level efforts in counterproliferation," the report states.