Surveillance

Video Surveillance Clock keeps watch

If you want to keep an eye on the goings-on in your home or office while you are away, you may want to consider the Video Surveillance Clock; the small (2 3/4″ Diam. x 3/4″ D ) analog clock has a built-in, motion-activated video surveillance camera that records both audio and video and takes photographs too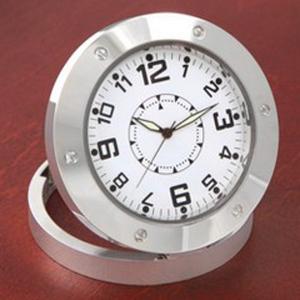 Hammacher's video surveillance clock // Source: kaboodle.com
Want to keep an eye on the goings-on in your home or office while you are away? You may want to consider the Video Surveillance Clock.
This small (2 3/4″ Diam. x 3/4″ D ) analog clock has a built-in, motion-activated video surveillance camera that records both audio and video and takes photographs too. It is perfect for checking out the action in a room or office.
Coolest Gadgets reports that the image sensor captures 720 x 480 resolution video in a 62º angle from nine feet away, while its sensitive microphone picks up sound from 16′ away. It can also take photographs at 1,280 x 960 resolution. Included is a 4 GB microSD card that will store up to six hours of AVI video or 52,000 JPG images. It also supports up to an 8 GB microSD card. You can download the content to your computer. Its rechargeable lithium battery is recharged via USB port and included cable. Compatible with Windows 7, Vista, XP, and Mac.
Available from hammacher.com for $159.00.