Surveillance

FBI questions its relationship with NYPD, pt. 2

In the first part of this article, we reported that the FBI's relationship with the NYPD Intelligence Division has become strained, and as a result information exchange has been impaired as the FBI and other jurisdictions have objected to some of the actions NYPD has taken; today, we report on the NYPD's view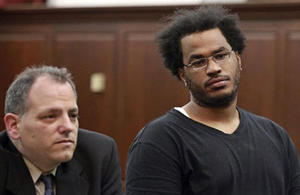 Jose Pimental with attorney Joseph Zablocki at his arraignment // Source: kurdsat.tv
The New York Police Department is generally considered to be the premier police department in the United States, if not the world.
The NYPD dwarfs most other U.S. police department in sheer numbers, divisions of specialization, and language capabilities, along with a strong team of officers working overseas, an ability that many in the intelligence community have criticized.
These criticisms have not been limited to one intelligence official. In the first part of this article we pointed out a quote in an AP report of New Jersey governor Chris Christie, who said: "They think their jurisdiction is the world. Their jurisdiction is New York City…. My concern is this kind of obsession that the NYPD seems to have that they're the masters of the universe."
There is no question that when the FBI and NYPD work in concert, the results can be remarkably effective. Recently, the FBI was keeping watch on two New Jersey men whose rhetoric was becoming exceedingly radical.
It was an NYPD undercover officer who was able to infiltrate and develop the evidence that the FBI used to prosecute the men successfully and send them to prison.
During this time, the NYPD has built itself into one of the most robust, and some would call aggressive, intelligence agencies in the United States. As such, it has been able to gather intelligence from mosques, even outside the state, which are prohibited to the FBI. AP reports that documents show that the NYPD intelligence division has maintained surveillances on mosques outside the city's jurisdiction, recording the license plates of worshippers as they come and go.
The NYPD rejects these complaints, including those of Governor Christie, with New York City's mayor Michael Bloomberg maintaining that the NYPD intelligence officers will operate anywhere if it (the Intelligence Division) deems it necessary to prevent terrorism.
AP quotes Mayor Bloomberg as saying that the NYPD can "follow leads wherever they come from." Maintaining it was all legal, Bloomberg went on to stress "They can go into any state,"
The NYPD's top counsel, Andrew Schaffer, supported the mayor's position when he told reporters that when NYPD intelligence officers were outside the city's jurisdiction, they were not acting as police officers.
The AP quotes Schaffer as telling reporters that "They don't exercise police power, they don't make arrests, they don't conduct searches, they don't execute search warrants."
Schaffer affirmed that . "That is beyond our power outside of our defined jurisdiction. But there's no prohibition on traveling to, residing in or investigating within the United States."
This is not to say that the NYPD is flexing its muscles for its own satisfaction.
Case in point: The NYPD had been keeping tabs on a young man by the name of Jose Pimental. Through an informer, it was learned that Pimental was a drug user, who had begun using more and more violent rhetoric.
The problem here was that the informant was also a drug user, having used with Pimental on a number of occasions, and Pimental had no known contact with al Qaeda, or any other known terrorists groups.
The FBI had no interest in pursuing the case, but as the NYPD developed new information, the FBI spent six weeks reviewing the case, and finally decided to move forward, after consulting with federal and state prosecutors. They decided to move forward in state court.
On 20 November, the NYPD arrested Pimental, maintaining that he wanted to attack post offices and police stations with pipe bombs,
Pimental has pled not guilty to rarely used state terrorism charges. At a news conference following the arrest, New York City police commissioner Ray Kelly said, "We had to act quickly yesterday because he was, in fact, putting this bomb together…. He was drilling holes and it would have been not appropriate for us to let him walk out the door with that bomb."
Kelly further indicated, when asked why the FBI wasn't involved, that the federal government moved too slowly for the NYPD.