Domestic terrorism

Five arrested in foiled Cleveland bridge bomb plot

Five men who considered themselves anarchists and angry at the government and corporate America were arrested after a foiled attempt to blow up a Cleveland area bridge; the five were planning on commemorating May Day, the international workers' holiday, by destroying the bridge connecting two wealthy Cleveland suburbs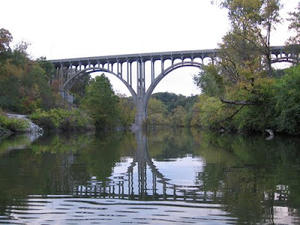 The Brecksville Bridge, target of the accused anarchists // Source: disc.yourwebapps.com
Five men who considered themselves anarchists and angry at the government and corporate America were arrested after a foiled attempt to blow up a Cleveland area bridge. The five were planning on commemorating May Day, the international workers' holiday, by destroying the bridge connecting two wealthy Cleveland suburbs.
The five men had researched explosives, and decided on C-4 plastic explosive, which they obtained from an informant the FBI had been using to keep tabs on the group.
The FBI said that the public was never in danger since the FBI maintained control of the explosives, and had provided the group with a harmless facsimile.
The men planted the fake explosives at the base of the bridge, armed them, and drove some miles away, where they entered codes they believed would detonate the bombs.
According to a Recordpub report, the five were identified as Joshua S. Stafford, 23, and Anthony Hayne, 35, both of Cleveland; Brandon L. Baxter, 20, of nearby Lakewood; Connor Stevens, 20, of suburban Berea; and Douglas L. Wright, 26; of Indianapolis. They were charged with conspiracy and attempting to bomb property used in interstate commerce. The charges carry a potential combined penalty of up to twenty-five years in prison.
The five appeared in U.S. District Court, where Magistrate Judge Greg White ordered them jailed without bond pending a hearing scheduled for Monday.
The group had no ties to any terrorist group, a concern raised by the planned bombing to have taken place on the anniversary of the killing of Osama bin Laden.
The Los Angeles Times reports that court documents stated that a "confidential human source" had met one of the suspects, Douglas Wright, at an Occupy Cleveland rally this past October. Wright described himself to the informant as an anarchist, and complained about the Occupy movement's resistance to using violent action.
Both the FBI and Occupy movement spokespeople said that the group's involvement with the movement was peripheral, and other than the meeting at the rally, the Occupy movement had no part in the attempted bombing.
The group had originally planned to use smoke grenades to distract law enforcement, while others knocked down signs for financial institutions that top high-rise buildings in downtown Cleveland.
According to the complaint filed with the court, "The signs are the most important part because they need to make sure everyone knows the action was against corporate America and the financial system, and not just some random acts," Wright is quoted as saying.