Chemical plant security

Under industry pressure, DHS drops chemical plant employee screening proposal

Security experts agree that short of a nuclear attack on a U.S. city, the most casualty-heavy disaster would occur as a result of an accident in, or a terrorist attack on, a chemical plant which would release a cloud of toxic fumes; there are about 15,000 plants in the United States which produce, process, use, or store volatile and toxic chemicals; more than 300 of the these plants are so close to large population centers, that a chemical release in any one of them would cause more than 50,000 casualties; DHS wanted to have employees in these plants screened for potential ties terrorism, but the chemical industry objected, saying this would be too costly; last Thursday DHS pulled the proposal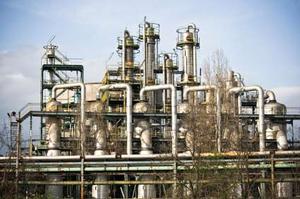 DHS pulls chemical plant employee screening order // Source: olx.co.id
There are about 15,000 plants in the United States producing, processing, using, or storing volatile and toxic chemicals. Security experts agree that short of a nuclear attack on a U.S. city, the most casualty-heavy disaster would occur as a result of an accident in, or a terrorist attack on, a chemical plant which would release a cloud of toxic fumes. More than 300 of these plants are so close to large population centers, that a chemical release in any one of them would cause more than 50,000 casualties.
DHS planned to require that employees in these dangerous plants, and individuals who come in and out of such plants on business, be checked to make sure they were not terrorists. The plan would have required that companies submit information, including name, date, place of birth, and passport and visa information, about "facility personnel and, as appropriate, unescorted visitors with access to restricted areas or critical assets" to their sites. DHS would then have checked the data against the FBI's Terrorist Screening Database.
Government Executive reports that a June 2011 DHS notice in the Federal Register estimated that the screening procedure would cost the industry about $29 million, and that it would affect 1.3 million individuals.
The industry objected to the move, saying it would duplicate screening procedures already in place and would little if anything by way of plant security. In April, chemical industry associations and the U.S. Chamber of Commerce sent a letter to Cass Sunstein, the administrator of the OMB Office of Information and Regulatory Affairs, urging the administration to abandon the plan.
Labor also opposed the new screening requirement, arguing that it was likely that the names of innocent employees would be found on the terrorist watch list.
Last Thursday, in a testimony before a congressional panel, Suzanne Spaulding, deputy undersecretary for the DHS National Protection and Programs Directorate, said that DHS had decided to drop the proposed screening plan. Government Executive notes that she did not say whether the department would seek to replaced the pulled proposal with another procedure, and, if so, what would this procedure be.