Infrastructure

Many of the U.S. 20 million manholes are in need of immediate rehabilitation or replacement

Published 5 September 2012

The EPA estimates that there are about twenty million manholes in the United States – or one manhole for every 400 feet of pavement on average; many of those manholes are in serious decay or in need of immediate rehabilitation or replacement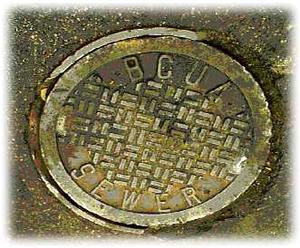 Deteriorating manhole cover // Source: bcua.org
Manholes are everywhere yet they often go unnoticed, but when a manhole fails, overflowing sewer systems quickly make these seemingly innocent infrastructure markers all too conspicuous.
A UT Arlington civil engineering assistant professor is teaming with a private sector engineer to study different techniques for renewing and designing manholes.
A University of Texas, Arlington release reports that Mohammad Najafi, the civil engineering assistant professor, and Firat Sever of Benton Associates of Illinois are partnering in the $251,000 grant from the nonprofit Water Environment Research Foundation to conduct the research at the University of Texas at Arlington's Center for Underground Infrastructure Research and Education.
The project, titled "Evaluation of Manhole Rehabilitation Technologies," will look at structural strengths and weaknesses of common manhole rehabilitation materials.
"Manholes are windows to our sewer system and are sometimes overlooked in maintenance," Najafi said.
The grant will allow the team to conduct compression tests, tensile tests, and shear strength tests to create a tool for developing a system which people can use to rehabilitate manholes.
Najafi said the research also would look at various materials that can be used in the rehabilitation process. He said there are more traditional materials like brick and mortar but there are some spray-on materials, too.
Najafi said manholes exist about every 400 feet of pavement on average in the United States. The EPA estimates that there are about twenty million in this country alone. Najafi said many of those manholes are in serious decay or in need of immediate rehabilitation or replacement.
"Manholes have received very little attention in wastewater engineering," Najafi said. "Inflow is a common problem that can result in sewer overflows and overburdening wastewater systems."
Najafi said he believes the research will yield a tool that will help decision-makers determine which rehabilitation method is appropriate for manholes.
"There are so many options and so many companies offering their services that we hope to cut through for those decision-makers," Najafi said. "We hope to provide vital information so that design engineers can make the proper decisions for this aging infrastructure category."
J.-P. Bardet, dean of the UT Arlington College of Engineering, said Najafi's work is integral in the rebuilding of America's infrastructure. "Teaming with private sector partners like Benton Associates makes so much sense in the world of higher education," Bardet said. "Dr. Najafi's work will yield real-world solutions in manhole rehabilitation."
The Water Environment Research Foundation, formed in 1989, is the U.S. leading independent scientific research organization dedicated to wastewater and storm water issues. The foundation, started by the EPA, is a nonprofit organization which operates with funding from subscribers and the federal government. Subscribers include wastewater treatment plants, storm water utilities, regulatory agencies, industry, equipment companies, engineers and environmental consultants.