Aviation security

TSA replaces backscatter scanners with millimeter wave scanners at some airports

Published 23 October 2012

TSA is replacing some backscatter scanners at large U.S. airports with millimeter wave scanners; backscatter scanners were criticized for violating travelers' privacy, and risking travelers' health by emitting high levels of radiation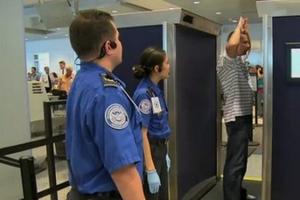 TSA will be replacing backscatter scanners with new technology // Source: presstv.ir
The Transportation Security Administration (TSA) is removing older body scanners from large airports and replacing them with different scanners.
The scanners which are being replaced, known as backscatter scanners, have drawn the criticism of travelers since they debuted a several years ago. Many travelers felt the scanners invaded their privacy and others were concerned about the radiation levels the scanners emit.
7San Diego reports that TSA has said that the scanners are being replaced to make way for more efficient machines in an effort to make security checks faster at some of the larger airports around the country. So far backscatter scanners have been removed from major airports including LAX, Chicago's O'Hare Airport, and JFK Airport.
The backscatter scanners will still be used at larger airports, but mainly they will be relocated to smaller airports with less foot traffic.
TSA began using the backscatter scanners after the underwear bomber incident on a Northwest airlines flight in 2009.
According to TSA, the new scanners — known as millimeter wave scanners — use a computer program to detect potential threats, while displaying an image of a traveler similar to a cartoon.
TSA feels the scanner will be a success, but security expert Glen Winn is not sold on the new scanners. "I find it very disturbing because you've spent hundreds of millions of dollars on equipment and now suddenly one day you're going to turn it off and try to move in new equipment. I don't find that practical number one, and number two how are you going to pull this off and get all these people retrained [on] that?" Winn toldNBC 7.
TSA has insisted that the radiation the backscatter scanners emit have nothing to do with them being replaced; radiation experts believe the millimeter wave scanners are safer.