First responders

Paramedics' risk of being assaulted far exceeds risk to firefighting colleagues

Published 27 January 2016

Research found that y medical technicians and paramedics are fourteen times more likely to be violently injured on the job than the firefighters they work alongside. The researchers found that assault-related injuries are often not reported, not acknowledged by administration, and therefore they are internalized by the workers as a "part of the job."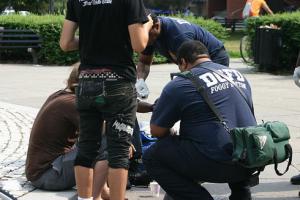 EMT responders treating an injured man // Source: Elvert Barnes via commons.wikimedia.org
Research out of Drexel University's Dornsife School of Public Healthdetermined that emergency medical technicians and paramedics are fourteen times more likely to be violently injured on the job than the firefighters they work alongside.
By comparing statistics gathered by the Federal Emergency Management Agency (FEMA)-funded Firefighter Injury Research and Safety Trends (FIRST) project and speaking with a group of paramedics who had been injured by patients, the Drexel researchers found that assault-related injuries are often not reported, not acknowledged by administration, and therefore they are internalized by the workers as a "part of the job."
"First responders are an interesting group. They go in because they want to help, and when they go in they encounter these situations they never got training for," said Jennifer Taylor, PhD, MPH,CPPS, associate professor in the Dornsife School of Public Health, and lead investigator on "Expecting the Unexpected: A Mixed Methods Study of Violence to EMS Responders in an Urban Fire Department."
Drexel University notes that Taylor, with the help of Drexel students and alumni, actually began looking into violent injuries as a gender issue, since numbers indicated that female members of fire department were more than six times as likely to be the victims of violent injuries.
However, it soon became clear that a person's occupation in a fire department was the aspect that really mattered.
"As an epidemiologist, I started describing the risk factors that public health researchers usually use: age, race, sex, etc. But we had some members of the responder community tell us to look at the paramedics because women are more likely to be paramedics than firefighters. This is why stakeholder engagement is so important in all phases of scientific research. By having a group of advisers who could look at preliminary data, they prevented me from making an incomplete conclusion."
In the department studied, women were more than fifteen times as likely to be a paramedic than a firefighter. Once it was determined that paramedics are fourteen times as likely to be assaulted, the research team found that male paramedics are more than twelve times as likely to be assaulted than their male firefighter colleagues (women paramedics were 9.3 times as likely to be assaulted when compared to their firefighter counterparts). As such, the gender gap in violence became statistically insignificant.
Taylor did one-on-one interviews and composed a focus group with a selection of responders to discuss issues that led to the