Foreign investment in U.S. infrastructure causes security concerns
Following the firestorm which erupted over the sale of management operations in major U.S. port to UAE-based DPW, there has been a relative lull in the interest of foreign companies in buying U.S. critical infrastructure assets; that interest is now growing again, and the Obama administration is grappling with how to balance the promotion of commerce with the bolstering of security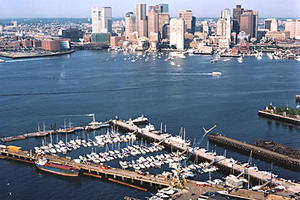 Boston Harbor // Source: web-strategist
The issue of foreign ownership of U.S. critical infrastructure assets burst to the surface four years ago when Dubai-based DPW acquired the management operations in several important U.S. seaports (see "Increasing Discomfort in Congress with Dubai-based Company Running U.S. Port Security," 16 February 2006 HSNW, and "U.S. Failed to Conduct Security Practices Audit before Approving Port Management Deal," 27 February 2006 HSNW). Angry lawmakers charged that the Bush administration was more interested in promoting commerce than bolstering security, and moved to tighten scrutiny of foreign companies seeking ownership of U.S. critical infrastructure assets.
The issue is coming back to the fore as foreign investors once again try to buy American industrial assets. The Obama administration has thus been forced to grapple with how to protect national security while promoting economic recovery.
The New York Times's Eric Lipton wrote last month that in early December, the administration had threatened to block the proposed takeover by the Chinese government of a tiny Nevada gold mining company, according to executives for the company, Firstgold. Administration officials have also raised questions about a bid by a United Arab Emirates-controlled company to buy a large stake of Virgin Galactic, which is trying to build the world's first commercial carrier to take tourists into space.
The issues involved are serious enough that the companies involved in the Virgin Galactic deal have agreed to withdraw the application to provide more time for them to be addressed.
"Foreign investments in the U.S. are critical to economic growth and job creation here at home, but we have an obligation to prioritize national security," the deputy Treasury secretary, Neal Wolin, said in a statement released in mid-December, in response to questions about the scrutiny of proposed deals.
Lipton writes that foreign investments in certain American industries, particularly those with critical technologies or military or homeland security assets, are reviewed by a federal panel and sometimes sent for approval by the president. These decisions can set off political firestorms, as was the case with DPW's acquisition of control of a dozen American port terminals. The plan was allowed to go through, but within a few months DPW sold its stake to AIG for hefty profit.
After a lull in foreign investment during the global recession in the last year, applications before the panel, the Committee on Foreign Investment in the United States (CFIUS), have increased in recent months. About 60 applications have been