Aviation security

Houston police nab TSA thief

In a sting operation, Houston police office arrested a Transportation Security Administration (TSA) screener for stealing from passengers at the city's Intercontinental Airport; Houston's Intercontinental Airport has had a history of reported thefts; in August 2003 local police arrested another TSA screener for stealing items from passenger's bags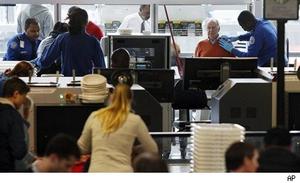 Complaints of TSA theft a growing concern // Source: pul.se
In a sting operation, Houston police office arrested a Transportation Security Administration (TSA) screener for stealing from passengers at the city's Intercontinental Airport.
Authorities were first alerted after several passengers reported items missing from their bags at the airport's Terminal B. Investigators traced the complaints to Karla Renee Morgan, a forty-nine year old TSA employee who had been on duty during all the thefts. Last Thursday, the Houston police department's Airport Tactical Unit working in conjunction with DHS officials set up a sting operation to catch Morgan in the act.
In their first attempt, undercover officers placed several valuable items in a bag and sent it through to Checkpoint 20, where Morgan was working, but she did not to take the bait and left the bag untouched.
In a second attempt, officers planted $1,000 in a wallet and handed it to Morgan requesting that she report the wallet.
According to the police report, Morgan did not report the wallet to her supervisor, which is required under TSA protocol. Instead Morgan placed the wallet in her back pocket and left the airport, where officers stopped her as she was heading to her car where she was caught in possession of the wallet.
She was booked for a misdemeanor charge of theft and posted a $1,000 bail.
Morgan was not prosecuted for Theft by a Public Servant, which is a felony, because Harris County law enforcement officials say TSA screeners are not considered public servants.
TSA refused to comment on the arrest stating that it wanted to respect the privacy of its employees. In an official statement, the agency said, "TSA holds its workforce to the highest professional standards and we act swiftly to end the federal careers of those who do not abide by those standards."
Houston's Intercontinental Airport has had a history of reported thefts. Based on records obtained by the Houston Examiner, in 2004, TSA paid $52,000 to repay ninety-two claims of theft at the airport. In total, the agency paid $373,000 to address claims at airports across the nation.
In addition, in August 2003 local police arrested another TSA screener for stealing items from passenger's bags.