Preparedness

Most Americans unprepared for disaster, survey finds

Published 12 September 2011

A new survey finds that most Americans are unprepared for major disasters and that they maintain a false sense of security with regard to what will happen if a major disaster or a terrorist attack took place; contrary to reality, almost one-third of respondents believed that during a major disaster, calling 911 would bring help within an hour, while 30 percent said they believed help would come within several hours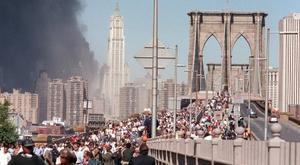 Most people still believe help will arrive within hours // Source: hsdl.org
A new survey finds that most Americans are unprepared and maintain a false sense of security during a major disaster or terrorist attack.
The poll, conducted by the National Center for Disaster Preparedness at Columbia's Mailman School of Public Health, indicated that more than half of the families surveyed had no emergency plan in place for a major hurricane or earthquake. Even those with plans in place were lacking essential items like a flashlight, two days of food and water, key phone numbers, and extra batteries.
In addition, contrary to reality, almost one-third of respondents believed that in a major disaster calling 911 would bring help within an hour, while 30 percent said they believed help would come within several hours. 19 percent believed that it could take more than a day.
In actuality, major disasters quickly overwhelm emergency responders and residents are often left to fend for themselves for several days before help can arrive.
Dr. Irwin Redlener, the director of the National Center for Disaster Preparedness, said the survey revealed that people's faith in emergency response is unrealistic.
Following the 9/11 attacks and more recently the massive earthquake and tsunami that decimated Japan in March, phones did not work and first responders were immediately overwhelmed.
Redlener was careful to note that even in minor disasters, like the blizzard that shut down New York City last December, dramatically hampered police and paramedic response times. In the event that Hurricane Irene had hit New York with devastating force, "EMS and every other emergency service would have been totally overwhelmed. You wouldn't have been able to make a phone call," he said.
Still, "many, many people believe that within an hour or two, you will have someone knocking on your door," Redlener said. "There has been a strange delusion that, even after all we have been through, the rescue response will occur rather rapidly."
In the event of a disaster, emergency responders encourage individuals to have enough supplies to take care of themselves for several days including medicine for those with chronic illnesses. In addition, families should have a designated family meeting spot in the event that they are separated and communication is lost.
"Preparing can actually make a difference," Redlener said.