Beam weapons

Raytheon-Navy team zaps UAV targets out of the sky with laser

Four UAVs were engaged and destroyed using the Navy's Laser Weapon System (LaWS), guided by Raytheon's Phalanx Close-In Weapon System sensor technologies; in separate news, Boeing recently took delivery of the beam-director assembly for the U.S. Army-s High Energy Laser Technology Demonstrator (HEL TD) program, moving the system a step closer to its 2011 testing schedule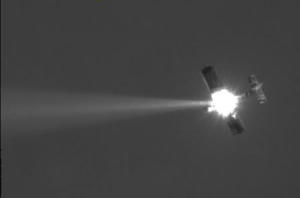 Destruction of a UAV by laser beam // Source: algerie-defense.com
Raytheon and a U.S. Navy team have used a combined-beam fiber laser to shoot down four unmanned aerial vehicles (UAVs) in flight over the sea. The UAV targets were engaged and destroyed using the Navy's Laser Weapon System (LaWS), guided by Raytheon's Phalanx Close-In Weapon System sensor technologies.
The Phalanx Close-In Weapon System is a rapid-fire, computer-controlled, radar-guided gun system designed to defeat anti-ship missiles and other close-in air and surface threats. LaWS is made up of six industrial lasers that simultaneously focus on the target.
"These engagements validate the operational viability of the Phalanx-LaWS combination at sea," said Dr Taylor W. Lawrence, president of Raytheon Missile Systems. "The Raytheon-Navy team demonstrated the systems' capability to detect, track, engage and defeat dynamic targets at tactically significant ranges in a maritime environment."
The Engineer reports that for the test, the LaWS was mounted on a platform close to the Phalanx Block 1B mount. Phalanx Block 1B is the latest upgrade with a surface-mode configuration that augments anti-air warfare capabilities by adding a forward-looking infrared sensor and optimized gun barrels to the Block 1A version.
The Phalanx operator used the Block 1B's surface mode to perform electro-optical tracking and the system's radio-frequency sensors to provide range data to the LaWS. When the Phalanx acquired the UAV, the LaWS destroyed the target.
"The Raytheon-Navy team is moving directed energy solutions toward utility in the battlespace to provide warfighters with speed-of-light protection," said Lawrence. "This shoot down leverages the significant investment the Navy has made in the Phalanx Close-in Weapon System and extends its combat-proven leadership in close-in defence systems."
In separate news, Boeing recently took delivery of the beam-director assembly for the U.S. Army's High Energy Laser Technology Demonstrator (HEL TD) program, moving the system a step closer to its 2011 testing schedule.
Integrated Optical Systems Brashear, a division of L-3 Communications, delivered the component in Pittsburgh for transport to Boeing's facility in Albuquerque, New Mexico, where it will be attached to the remaining beam-control system hardware. Once assembled, the laser system will be integrated with an Oshkosh Heavy Expanded Mobility Tactical Truck (HEMTT) in Huntsville, Alabama.
According to Boeing, the beam-control system will acquire, track and select an aim point on a target — including rockets, artillery and mortar projectiles — during the same time frame, in which the system also will receive the laser beam from HEL TD's laser device, reshape and align it, and focus it on the target. The system includes mirrors, high-speed processors and high-speed optical sensors.
"Watching this revolutionary capability come together through the efforts of Boeing employees and partners working with our U.S. Army customer reinforces how real — and how close — this technology is to being ready to support warfighters," said Blaine Beardsley, Boeing HEL TD program manager.