Disasters

Scientists warn solar storms could be "global Hurricane Katrina"

Scientists warn that massive solar storms could be the equivalent of a "global Hurricane Katrina"; these storms could cause $2 trillion in damages to communications equipment, power grids, and GPS systems; experts are particularly concerned about solar flares due to the increased reliance on electrical communication systems and the approach of a period of intense solar activity; solar flares can cause power surges that are powerful enough to knock out electrical grids and induce electric currents in oil pipelines; in 2013 the sun will enter a peak in its eleven year solar cycle that is expected to generate a significant number of powerful solar flares; last month a solar flare generated magnetic storms and power surges that disrupted communications and grounded flights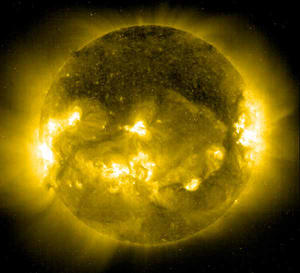 Solar storm well under way // Source: reallygoodmagazine.com
Scientists warn that massive solar storms could be the equivalent of a "global Hurricane Katrina," and devastate communications equipment, power grids, and GPS systems.
Before an audience at the American Association for the Advancement of Science in Washington, Professor Sir John Beddington, the U.K's chief scientific adviser, warned that the "growth in the use of complex electronic machinery over the past ten years has made society far more susceptible to catastrophic disruption than a decade ago when the last solar activity cycle reached its peak." His concern comes after a massive solar flare last month sent billions of tons of matter hurtling towards the Earth at millions of miles per hour. The flare was the biggest eruption in the past four years and it generated magnetic storms and power surges that disrupted communications and grounded flights.
According to Jane Lubchenco, the head of the US National Oceanic and Atmospheric Administration (NOAA), the "event was the strongest solar flare in four years and as a consequence airlines re-routed flights away from polar regions in anticipation of the possibility that their radio communications would not be operable."
Lubchenco also said that the flare interrupted communications in parts of the western Pacific region and Asia and that trouble with communications equipment was reported on flights from Hawaii to California.
Experts are particularly concerned about solar flares due to the increased reliance on electrical communication systems and the approach of a period of intense solar activity.
On the ground solar flares can cause power surges that are powerful enough to knock out electrical grids and even induce dangerous electric currents in oil pipelines, while in space large bursts of electromagnetic radiation can distort GPS systems.
Dr. Thomas Bogdan, director of the Space Weather Prediction Centre in Boulder, Colorado, explains that GPS systems are highly vulnerable to massive bursts of energy from the sun.
"That ionosphere sits between us and the GPS satellites and the thicker that ionosphere, the longer the time delay between the GPS satellite and when you pick it up," Dr. Bogdan said.
"In the worst-case situation, on the day-lit side of the Earth, we could see the loss of GPS not only for navigation but for its critical timing capability used in business transactions," he added.
With governments and business relying on electronic equipment like GPS for navigation, computers to control smart electrical grids, and the internet to run daily transactions, a solar storm could cause as much as $2