Water

Solar-based method to provide safe water

A revolutionary low-cost technique that uses sunshine to provide safe drinking water; solar disinfection (SODIS) of drinking water is an effective way of preventing water-borne diseases such as cholera, dysentery or polio — especially important in developing countries, where safe drinking water is often a precious rarity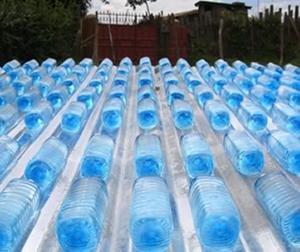 After six hours, the water is disinfected // Source: solarwaterdisinfection.ca
A revolutionary low-cost technique that uses sunshine to provide safe drinking water is being developed by scientists at the University of Ulster.
A £1.9 million EU-backed partnership project aims to demonstrate that solar disinfection (SODIS) of drinking water is an effective way of preventing water-borne diseases — especially important in developing countries, where safe drinking water is often a precious rarity.
A University of Ulster release reports that the University of Ulster is a leading partner in the research, and University's Photocatalysis Research Group, headed by Dr. Tony Byrne, will be responsible for developing SODIS enhancement technologies.
More than one billion people lack access to safe drinking water. SODIS is a low-tech, safe, and affordable method to improve water quality. It involves placing contaminated water into transparent bottles, which are then placed in direct sunshine for six hours. SODIS is approved by the World Health Organization (WHO) and recently proved to be effective in the aftermath of the tsunami disaster in Southeast Asia in 2004.
Byrne, who is Principal Investigator at the University of Ulster, said: "Simply exposing contaminated water to sunlight is an effective method for reducing the incidence of many water-borne diseases such as cholera, dysentery or polio. It can be used in places where people have no access to safe drinking water. Furthermore, our research has shown that the solar disinfection process can be greatly enhanced using photocatalytic materials, with no major additional cost."
The multi-disciplinary team will investigate the health benefits of using solar disinfected drinking water in developing countries; the factors that influence communities to adopt or reject SODIS; whether the basic SODIS technique can be improved using simple technologies; whether any major water-borne diseases are not susceptible to SODIS.
Dr. Patrick Dunlop, Research Fellow on the project, said: "This exciting project gives us the opportunity to use nanotechnology in a very practical way that could help save lives in the developing world."