Water

"Solarball" promises to deliver clean water to developing countries

Contaminated drinking water is the world's leading killer with more than 3.4 million people a year, including two million children, dying from water borne diseases; to help combat these preventable deaths, one Australian university student has designed an affordable solution to provide clean drinking water to people across the world; the device, called the Solarball, can provide up to three liters of clean water a day by harnessing the energy from the sun; the Solarball can be manufactured cheaply, is simple to use, and made of durable materials; it was designed specifically for use by people in hot, wet, tropical climates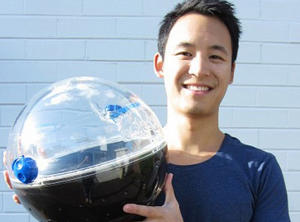 Designer Jonathan Liaow and his Solarball // Source: inhabitat.com
Contaminated drinking water is the world's leading killer with more than 3.4 million people a year, including two million children, dying from water borne diseases.
It is estimated that more than 900 million people lack access to clean water predominately in developing nations that have experienced rapid urbanization and population growth.
To help combat these preventable deaths, one Australian university student has designed an affordable solution to provide clean drinking water to people across the world. The device, called the Solarball, can provide up to three liters of clean water a day. By harnessing the energy from the sun, the Solarball evaporates dirty water. As the water evaporates, contaminants are filtered out and the condensation is collected and stored separately for drinking.
Jonathan Liow, an industrial design student at Australia's Monash University and designer of the Solarball, was driven to build the device after a trip to Cambodia.
Liow said, "After visiting Cambodia in 2008, and seeing the immense lack of everyday products we take for granted, I was inspired to use my design skills to help others," Liow said.
"The challenge was coming up with a way to make the device more efficient than other products available, without making it too complicated, expensive, or technical," he added.
The Solarball can be manufactured cheaply, is simple to use, and made of durable materials.
It was designed specifically for use by people in hot, wet, tropical climates.
The device was named as a finalist in Australia's 2011 Design Awards and will be showcased at the upcoming Milan International Design Fair.